October 4, 2023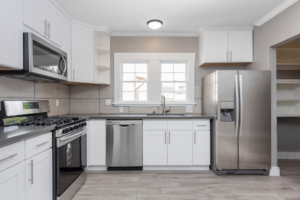 There's an expression in the world of interior design that goes something along the lines of "the kitchen is the heart of the home." And if you think back and reflect on all of the time you spend in your kitchen, whether it's preparing meals, creating arts and crafts, or simply sitting and enjoying a cup of coffee, there's something to be said about a tranquil, functional space that looks great! But if you're hoping to paint your kitchen soon, but are unsure about what schemes work well with all of the stainless steel appliances and surfaces that are present, you might not know where to begin. Continue reading below for some ideas that are certain to set you up for beautiful results!
You Can't Go Wrong with Classic White
White is probably the safest color you can pair with stainless steel appliances—or anything else, for that matter! It's a classic, timeless staple with an unparalleled level of versatility and customization, coming in all sorts of variations and shades. Plus, it provides a clean backdrop as well as a sharp contrast against the silvery hues of stainless steel appliances and surfaces, making the kitchen feel airier and more spacious.
Earthy Tones Are Tried and True
Earthy tones include shades of brown, gray, and other similar colors, meaning that there are quite a few different options and styles to go with. For example, choosing a dark brown hue for cabinets will create a warm and cozy vibe when coupled with stainless steel. Lighter shades of brown can also be used—you might even consider complimenting it further with hardwood flooring. Since most neutral browns and grays often don't require other hues to make them pop, they're usually quite easy to incorporate, too. Black is also a practical, mainstream color that's considered a must-have next to silver appliances. Whether you're just adding small accents of black or choosing to add black to your walls, just be sure to not add too much as this can make things appear dark.
Big and Bold Can Also Work Wonders
If you'd like something a little bolder, brighter, or more colorful to draw attention away from your stainless steel pieces, you have quite a few different options. Deep blues like navy, rich greens like sage or emerald, cherry red, or even canary yellow all have their place in the kitchen, and can be paired quite masterfully with the silver of stainless steel—and they'll add unique style to your space that'll impress all who enter! A tiled backsplash using a mixture of different bright colors is often an inexpensive way to spruce up a kitchen filled with stainless steel.
If your kitchen has natural lighting, you'll also want to be mindful of the interplay between light and paint color. Utilizing test samples beforehand can help you to make an informed and tasteful decision. But the bottom line is that you don't have to settle for a kitchen aesthetic that's dominated by the silver of your stainless steel appliances; adding a little color can go a long way!
About Platinum Painting of Flower Mound
The team at Platinum Painting of Flower Mound has proudly assisted homeowners in the area over the last 15 years with a wide variety of interior and exterior painting projects, and they'd love to help you with your next big undertaking! If you have any questions about the blog or you'd like to set up a FREE in-home estimate, please contact their team online or by phone. Telephone: (214) 225-9871.
Comments Off

on Try These Paint Color Schemes with Your Stainless Steel Appliances
No Comments
No comments yet.
RSS feed for comments on this post.
Sorry, the comment form is closed at this time.