Exterior Painting – Flower Mound, TX
Give Your Home A Beautiful Makeover
Painting the outside of your house can make it look newer, protect it from the temperamental Texas weather, and even increase resale value, but that doesn't mean that it's not hard work! If you're like most people, then you'd probably prefer to relax on your weekends and not spend time on a ladder outside holding a soaking roller. At Platinum Painting in Flower Mound, we can help you enjoy all of these benefits and more while you sit and relax in the AC.
We'll start by thoroughly inspecting the exterior of your home so we can go over your ideas and give you an accurate estimate. This comes at no cost to you whether you end up choosing us or not to complete your project! We think that you'll find that our exterior painting services have the perfect balance of both quality and affordability.
Whether your house is mostly wood, brick, or siding, we can make it look spectacular and ensure that it stays that way for many years to come. Give us a call today to get a free estimate!
Why Choose Us:
Based in Flower Mound
Insured
Satisfaction Guarantee
Serving All of North Texas
What Can We Paint?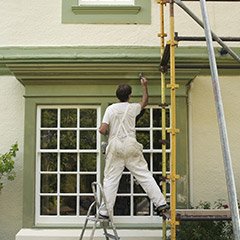 With over 10,000 houses under our belts, you can trust Platinum Painting to handle your home's exterior with no problem, no matter its particular quirks. We can work with any material, design, and fixture to get the job done and ensure a great outcome. Our exterior services include:
Wood
Brick
Composite
Vinyl/Aluminum
Fascia/Eavestrough
Stucco
Decks
Patios
Fence Staining
Railings
Carpentry Needs
And much more!
No Detail Is Too Small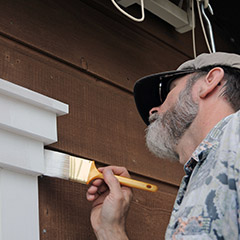 When painting the outside of a house, there are so many different factors to consider. What colors would work best? What is the weather like? How hot does it get? Will certain areas be exposed to more sunlight/moisture than others? How will the paint go with any shrubbery, trees, or art fixtures? Most other painting companies will allow little details to slip through the cracks, but not Platinum Painting of Flower Mound. We're experts at this, and no matter how complicated your project might be, we'll be able to handle it with ease and really deliver in the end. Nothing gets past us!
The Steps of Exterior Painting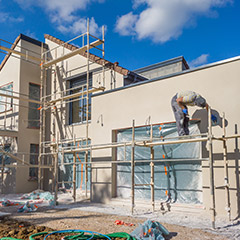 Prep: Time to give your house a bath! We'll powerwash all of the surfaces we intend to paint so we can remove any dirt, sand, or mildew. We'll also scrape away any loose paint. We do ask that you kindly turn off your sprinkler system so it doesn't accidentally wash off wet paint (or soak our team). You should also remove any fragile fixtures or hanging plants. You can learn more about what you'll need to do on our Getting Started page.
Priming: We'll apply a high-quality primer to prepare any surfaces and ensure that the paint forms a strong bond.
Painting: The last coat we apply will be your chosen color(s) and gloss level. This will help protect your home from the weather, too!
Cleanup: We'll clean up after ourselves daily as well as at the end of the project. We'll make sure there isn't a paint chip or piece of trash in sight.
Inspection: Time for you to enjoy our work! We'll show you everything we've done, and you'll have a chance to express any concerns or ask for adjustments. We won't leave until you're completely happy and satisfied.
Dedicated Color Consultation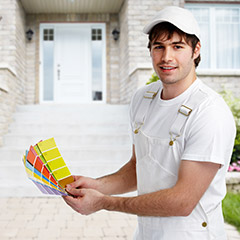 Choosing which color(s) to paint the outside of your house is a big decision, and it's easy to become overwhelmed considering how many choices and factors you have to consider. Before a can of paint is opened, we can have a member of our team come over and help you decide on the finer details of your project. They'll help narrow down your options based on your unique goals so you can make all decisions with complete peace of mind. And, to help you get started, the Paint Color Visualizer from Sherwin-Williams is also an excellent tool for exploring different color options to your heart's content.
Frequently Asked Questions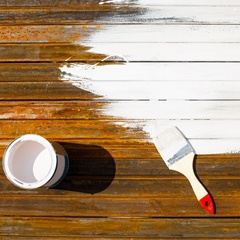 When someone comes to your house, the exterior is the first thing they'll see. Whether you're hosting a holiday get-together or you're hoping to sell your house soon, you want your home to make a good first impression on others. That's where choosing the right service company comes in. With over a decade of experience serving homeowners all over North Texas, we at Platinum Painting have shown again and again that we can help make our customers' design visions a reality. You might have questions to make sure that you choose the right painting company. Check out our answers to these common questions!
Is it ever too hot or cold to paint? What is the best season to paint outside?
At Platinum Painting, we are used to dealing with the crazy Texas weather during any season. We do our best to deliver amazing results regardless of what Mother Nature does. However, there are some situations that we need to reschedule work so that we can meet our—and your—high standards for quality. When it's raining or below 35 degrees, we can't paint exterior surfaces. In the summer months, we avoid the 100+ degree temperatures by painting early in the morning. We will work with you to get the work done as efficiently as possible
Should I replace my gutters when I paint?
Definitely! If your gutters need to be replaced, it's smart planning to do so at the same time as exterior painting. Your gutters are supposed to divert water away from your house, protecting it from costly water damage. By coordinating your exterior painting project with the installation of new, functioning gutters, you can add so much more protection for your home, including the fascia, which is often neglected by builders. If you'd like, our sister company, Platinum Gutters, can perform this work for you. We can work with whatever gutter company you choose to make sure the entire process goes smoothly for you. That way, your house will definitely be shielded from the elements!
Can you paint metal fences and gates?
Absolutely! We've painted over 10,000 homes all over North Texas, so we've painted all kinds of exterior surfaces—including metal fences and gates. We know how to approach each one effectively and efficiently so that you get the results you want. When our estimators come, just be sure to tell which surfaces you want painted so that they can create a more accurate estimate. Our team of experienced professionals will leave you with a look you'll love!
What prep do I need to do before you start?
In order for our team to work as efficiently as possible, you need to do certain things before we arrive. For example, please make sure to turn off your sprinkler system for the duration of the project. Our team doesn't want to get wet, and water will impact the paint job. Also, please secure your pets away from the project area and clean up after them. Remove any wall hangings or plants so that we can move freely in your outdoor spaces for the project. Doing these things can enable us to get right to work, get it done quickly, and get it done right.
Can you replace the wood before you paint?
We sure can! Here in North Texas, we can get heavy rain, hail, and other kinds of crazy weather. Unfortunately, the wood surfaces outside your home can become damaged or rotten over time from water exposure. The good news is that our skills include more than just painting! We have master carpenters on our team who can replace the HardiePlank lap siding, fascia, and soffit as needed. Then, we can paint it to match the rest of your home's desired aesthetic! That way, you can rest assured that your house withstands whatever Texas weather throws your way.