Wallpaper Removal – Flower Mound, TX
Make That Tacky Wallpaper Disappear
Wallpaper is a relatively easy way to add a little fun and color to any room, but as with any kind of design, it will inevitably become worn out and dated. Rather than removing it yourself and damaging your walls, Platinum Painting of Flower Mound would be happy to expertly peel off any wallpaper in your house so you can get back to a blank slate and remodel the room however you like. We'll make the process easy and mess-free so you won't have to worry about it. Contact us today to learn more and get a FREE estimate!
Why Choose Us:
Based in Flower Mound
Insured
Satisfaction Guarantee
Serving All of North Texas
What to Consider When Removing Wallpaper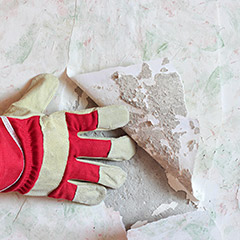 Getting rid of wallpaper is simple—it's just like peeling off a stamp, right? Unfortunately, not so much. The process can actually be quite delicate if you don't want to end up damaging your walls or making a huge mess. As professionals who have done this countless times, we know there are a number of factors to consider with this kind of job, including:
The Type of Paper: Some wallpapers have a vinyl coating while others are 100% fabric. Every style calls for a different removal approach to get the best results.
Timeframe: How long has the wallpaper been there? 10, 20, or 40 years? This matters because it will tell us a lot about the type and condition of the adhesive as well as the underlying wall.
The Wall: Was the wall properly primed before the paper was applied to it? If not, it won't come off easily without a lot of TLC.
To make any job (relatively) easy, we only use top of the line solvents and steamers, and we guarantee we'll be able to remove any wallpaper despite the trickiest of circumstances.
The Benefits of Wallpaper Removal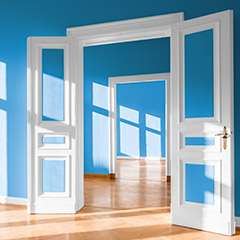 If you have wallpaper that you're unhappy with, then the first benefit is probably already in your mind—you don't have to keep looking at that same ugly pattern! Wallpaper can easily date a room and make it seem like it's from another decade (which in many cases, it is!). Simply by removing the paper, you can quickly bring any room into the 21st century.
Removing wallpaper is also an easy way to spruce up your house's overall look, as paper tends to show obvious signs of wear after a while, including peeling and yellowed corners. Taking it off can open up so many other options for a room, allowing you to choose any color or texture you want to fulfill your design visions.
The Steps of Wallpaper Removal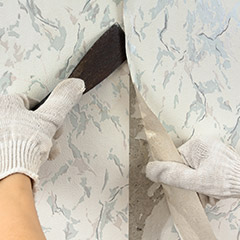 Prep: We'll apply non-toxic solutions to the wallpaper to start breaking down the adhesive and make it easier to peel away.
Removal: Once the solvent has done its job, we'll gently and patiently remove the wallpaper using a variety of specialized tools so that we don't damage the walls.
Cleanup: We'll remove any leftover residue from the wall, fix any minor damage, and vacuum the floor so we don't miss any small bits of paper.
Inspection: When we're done, you'll have a chance to look over our work and let us know if you have any concerns. We won't consider it finished until you give us the thumbs up!
Wallpaper Removal FAQs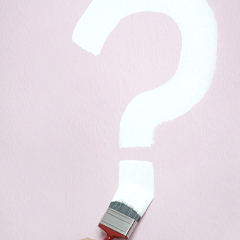 At Platinum Painting, we understand that inviting a service company into your home takes trust. Even before the work crew arrives for the project, you want to feel confident that the job will be done right the first time and leave you with results that you'll love. We couldn't agree more! If you have questions about having your wallpaper removed with us, keep reading. We've answered some of the most common ones and hope to address your concerns. However, feel free to contact us if you have other questions! Our team is here to help however we can!
Can you paint over my wallpaper?
Technically, yes, we can. However, we strongly discourage painting over wallpaper. Regardless of how long your wallpaper has been up, the moment you apply moisture to it, unattractive bubbles and peeling edges can easily appear. Also, wallpaper and bare walls have very different textures, so you can clearly tell when there's paint over wallpaper. Whether you're planning on selling your home soon or years down the line, paint on wallpaper can be a huge turn-off for potential homebuyers. All they see is a project that will require patience and work to fix. To give your walls a fresh, new design, it's best to remove the wallpaper and start over.
Will my walls be ready to paint once the wallpaper is removed?
Removing wallpaper requires more steps than simply tearing it from the wall. Oftentimes, the adhesive used to place wallpaper leaves small bits of residue and damage behind. We use specialized tools and solutions to remove any trace of the wallpaper and help keep the damage to a minimum. Then we repair any unavoidable damages to the sheet rock and retexture the walls to make them look like new! Finally, we prime the wall, preparing it for a fresh, new aesthetic. To make sure that your walls look their best for future use, it's important to follow these steps for wallpaper removal. Our team has years of experience dealing with wallpaper can deliver fast, beautiful results.
How long does wallpaper removal take?
The timeframe for removing wallpaper can vary depending on several factors such as the type of wallpaper, how long it has been in place, and whether the walls were sealed and primed properly before wallpaper was applied. This information gives us an idea of how challenging it will be to get the wallpaper off, either shortening or extending a project's timeline. Generally, it takes about two days to remove roof wallpaper and repaint; however, when our estimator evaluates your walls, they should be able to give you a more accurate idea of the time needed to complete your specific project. Our team works hard to remove your wallpaper cleanly and prepare your walls for a fresh start.
What prep do I need to do before you start?
There is very little prep work that needs to be done before our team arrives. Just simply remove pictures or artwork from the walls. That way we can get right to work. Throughout the entire process, we'll take good care of your walls by patiently removing the wallpaper and residue and fixing any damage left behind. In addition, you can be certain that our team will pick up all debris from the rooms. With our tools and skills, we'll have your wallpaper down in no time, leaving you with walls that are ready to enhance your rooms' unique style.