Cabinet Painting – Flower Mound, TX
Easy Kitchen Makeover!
Tons of people would love to makeover their kitchens, but one look at the price for new cabinets and countertops can quickly send most into despair. Your choices are either affordable and cheap-looking or outrageously expensive with nothing in the middle. If you find yourself in this situation, know that there is a more budget-friendly option that can easily make your kitchen look brand new—cabinet painting! With a professional paint job from Platinum Painting of Flower Mound, we can help you get the kitchen of your dreams for a fraction of the cost of a traditional remodel. To learn more about your options with us, contact us today for a FREE estimate!
Why Choose Us:
Based in Flower Mound
Insured
Satisfaction Guarantee
Serving All of North Texas
What Can We Paint?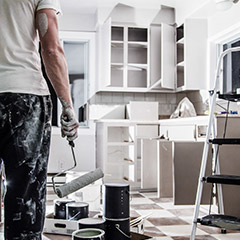 Of course, you probably have cabinets in more rooms than just your kitchen! No matter where they might be or what their configuration is, our team can help them look brand new with a fresh coat or two. We're able to paint:
Kitchen Cabinets
Center Islands
Bathroom Cabinets
Garage Cabinets
And much more!
The Cabinet Painting Process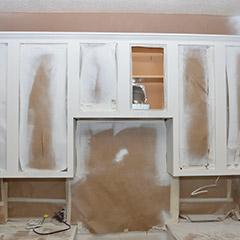 With cabinet painting, we offer two main options:
Spray Painting: This is usually our first recommendation as it can easily create a smooth, hard surface that gives off the appearance of brand new cabinets. Our team is so great that there won't be a blemish or drip in sight.
Brush & Roll Painting: This is a more traditional approach, and while this technique won't make for the same type of finish as spray painting, it's still a great way to spruce up your cabinets while saving a lot of money.
Which option is best for you? That, of course, depends on your particular goals and budget! Tell us what you hope to accomplish and what you're willing to spend, and we'll help you find an option that works great for both your cabinets and wallet.
Painting Cabinets or Resurfacing Cabinets?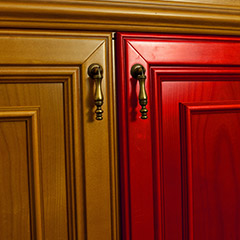 In addition to repainting cabinets, our customers can also opt to have them resurfaced. Each option has its own unique benefits, and the final decision will ultimately be left up to you. However, while we're great at resurfacing, here is why we recommend painting for most of our clients:
Painting usually takes much less time, meaning it won't be as disruptive to you and your family's day-to-day life.
It's also much greener and less wasteful than resurfacing as well. We won't end up sending a bunch of trash to the dump with painting!
On average, painting is more affordable than resurfacing, which makes it a worthwhile investment if you're already satisfied with the overall design and aesthetic of your cabinets.
Cabinet Painting FAQs
The look of your cabinets can make a huge difference in the feeling of a kitchen or bathroom. That's why you want to pick the right company that will make sure you get the results you want. From the first phone call to the final inspection, our team at Platinum Painting will help you feel confident about and excited for your "new" cabinets. To help you in deciding to partner with us, we've provided answers to some of the most common questions that we get from customers about cabinet painting. If you still have questions, feel free to reach out to our team. We can address your concerns and schedule your free estimate.
Is there a difference between cabinet repainting and refinishing?
Yes, these two are very different. Repainting, as the term implies, entails applying a different coat of paint. This option is particularly attractive to our customers because it is less expensive, requires less time, and is more environmentally friendly than refinishing, which involves re-staining. However, if you would like to change the style of the cabinets, refinishing may be your best option. If you aren't sure which method will give you the results you want, don't worry! Our estimators can provide advice, and we'll check in with you throughout the process to make sure you're completely satisfied.
Do I need to clear coat over the paint to protect the cabinets?
In general, we do not recommend having a clear coat put on top of the newly painted cabinets. There is a possibility of an adverse chemical reaction between the paint and the clear coat that can cause your cabinets to appear more yellow especially over time. At Platinum Painting, we want you to be happy with the finished product for years to come. Instead of a protective clear coat, we use the proper techniques, primers, and high-quality products that will leave your cabinets looking brand new. Our experience team is happy to help you choose the best options to make sure your updated cabinets last for many years to come.
How long does cabinet repainting take?
The length of your project can depends on, among other things, the size and number of the cabinets and the technique that you choose for painting them. Even with multiple coats, spray painting can be faster than using the "brush and roll" method. Our estimators have years of experience and can provide an accurate timeline for your specific project. Also, if you want to refinish or resurface instead of paint the cabinets, the project will take longer to complete. Are you ready for your free estimate? Just give our team a call!
What prep do I need to do before you start?
The only preparation that we'd like you to do before we arrive is removing everything out of the cabinets. If we are only going the outside of the cabinets and both sides of the doors, you can leave things inside. However, because sanding and other potentially messy tasks are involved in the process, we do let you know that you may have to clean every dish after we're done painting. Try to have the countertops free of clutter. If you take a little bit of time to do these tasks, we'll be able to get right to work on revamping the look for your cabinets!