Popcorn Removal – Flower Mound, TX
Make Popcorn Ceilings Disappear
Popcorn ceilings were popular around the middle of last century, which means that their day has long come and gone. Now, for many homeowners, they are just a nuisance that causes their house to look dated. Removing popcorn ceilings is very possible, but doing it yourself can be extremely messy and even dangerous if your house contains asbestos.
Instead, let the team at Platinum Painting of Flower Mound take care of everything for you. We can give you a refreshed ceiling in the fraction of the time it takes to do it yourself thanks to our skilled hands and top-quality tools, giving you a smooth and clean finish to do with whatever you want. Give us a call today to receive a FREE estimate!
Why Choose Us:
Based in Flower Mound
Insured
Satisfaction Guarantee
Serving All of North Texas
The Benefits of Popcorn Removal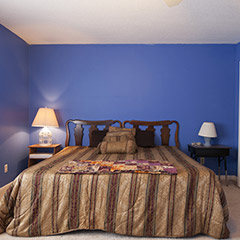 If you'd like to have a home that looks sleek and modern, then the first thing that has to go is a popcorn ceiling. Clients are truly bowled over by how much of a difference this can make for a room. It's a great way to update a room and make your house look more attractive to prospective buyers as well!
Popcorn surfaces are also huge magnets for dust, especially near ceiling fans. They're not easy to clean without making an even bigger mess, and all that junk floating around in the air certainly can't be good for your family's wellbeing. Thankfully, we know exactly how to make it all disappear.
The Steps of Popcorn Removal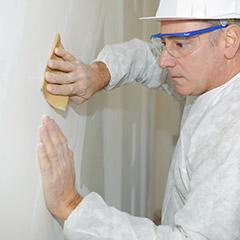 Prep: We'll remove every fixture and light switch from the room as well as cover the floors and furniture with plastic.
Removal: After soaking the walls/ceilings with a powerful water gun, we'll give them a chance to become completely saturated, and then we'll use special scraping tools to systemically dislodge the popcorn.
Aftercare: Once we reach the substrate (underlying layer) of the ceiling, we'll fill and sand as necessary to create a flat and attractive finish.
Cleanup: We'll vacuum everything up so that you'll never have to see the popcorn again. We'll let you look over the room so you can make sure that we didn't miss a spot!
What Happens Next?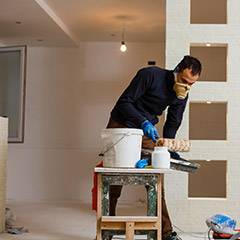 The popcorn is finally gone…now what? Platinum Painting can go a step beyond and paint/texture your ceiling as desired. You'll be amazed at what this can do for a room, and you'll also be shocked by how many ways we can makeover your ceiling. Before we remove the popcorn, we can discuss what you want to do afterward so we can begin that part of the process as quickly as possible.
Popcorn Ceiling Removal FAQs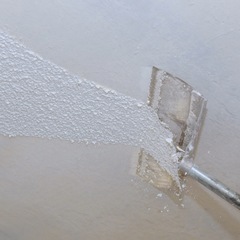 At Platinum Painting, our ultimate goal is to make your design dreams for your home become a reality. As a result, we also offer popcorn removal services to update the look and feel of your home. However, you may have questions about this specialized service we offer. That's why we've answered some of the most common questions about popcorn ceilings removal below. We invite you to contact our team if our responses do not address all your concerns. We are always glad to help in any way and can schedule your free estimate!
Why should I remove my popcorn ceiling?
At one point in the last century, popcorn ceilings were a popular design choice, but styles and tastes have definitely changed since then. In addition to the somewhat odd, bulky appearance, the chunky texture has a tendency to accumulate grime and dust, making it difficult to keep clean. Plus, it can turn off potential homebuyers because of its outdated style. By changing the popcorn ceiling, you can transform the look and feel of the room to be more welcoming and easier to maintain.
Will my ceiling be ready to paint once it is removed?
To get your ceiling ready for paint, you have to do more than just scrape the popcorn texture off. To do it properly, we start by soaking the ceiling texture and carefully use our special tools to scrape and remove it. Before adding the appropriate texture back onto the walls, we float the joints with drywall mud. Finally, we prime the ceiling, which is then ready to be painted. Following these steps ensures that your updated ceiling texture and paint will stay and look good for a long time.
How long does popcorn ceiling removal take?
For a small area, removing the popcorn ceiling can typically be completed in about two days. Depending on the size and number of the rooms, an entire house may be treated in three or four days. If you choose to have us paint after we remove the popcorn ceilings, keep in mind that that can prolong the project. To know the specific timeline for your ceilings, you can ask our Idea Guys when they come to your house to give you a free estimate. They should give you an idea of the duration of the work.
What prep do I need to do before you start?
Removing popcorn ceilings can get a little messy. Before we arrive, please remove knickknacks and bed linens. We will cover or move your furniture out of the room as needed, and having these small things put away can help us get right to work. Our professional team members will do our best to contain the mess and will sweep and vacuum when we're finished, but the project often results in a lot of dust that unavoidably spreads to other parts of the house. We recommend arranging a cleaning service to come clean when the project is completed. Also, you may also want to consider staying at a hotel or a friend's house while we remove the popcorn ceilings.