Residential Painting – Flower Mound, TX
No Project Is Too Large Or Too Small
At the heart of everything we do, our goal is simply to make homeowners completely happy by doing quality, beautiful work. From the first visit from the estimator to the cleanup after a job, our team is dedicated to meeting each customer's needs. Although our residential painting company has changed a lot since our humble beginnings, our dedication to customer satisfaction has not.
Why Choose Us:
Based in Flower Mound
Insured
Satisfaction Guarantee
Serving All of North Texas
Early Days of Platinum Painting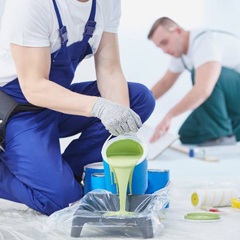 Husband-and-wife team Karl and Marjorie Pickens worked in the furniture business and gained years of valuable experience in customer service and sales. When Karl transitioned to the painting industry, he found a perfect match for their skills. However, the more they learned, the more they saw a gaping hole in the painting world. Many of the painting companies at the time really only gave customers the choice of paint color and not much else, limiting the price range that they could offer for residential painting services. Wanting to fill this void, in 2008, Karl and Marjorie Pickens decided to take a chance and start their own residential painting company only two months after buying a new house in Keller.
At the very beginning, they reached out to family, friends, neighbors, and even guests from their wedding to see if they could put Platinum Painting signs in their yards. From the recommendations from our satisfied customers, we gained more interested customers and have expanded to what we are today.
Local Roots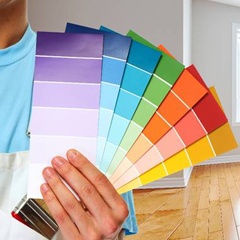 Platinum Painting has quickly grown over the past decade and now serves several communities throughout North Texas, including Flower Mound. With each new area, we have searched for local talent who can not only provide the expertise and skills we are looking for but also have these basic qualities:
Strong work ethic.
Desire to continually improve their practical skills.
Our team members more than simply work here in Flower Mound—we live here too! We go to the same grocery stores as you, our kids go to the same schools as yours, and we know the area well. We hire our team of dedicate professionals for the long term, so you can trust that we will do the job right. As your neighbors in Flower Mound, we want to make you so happy with our work and your experience with us that you'll recommend us to your friends and family.
Our Promise to You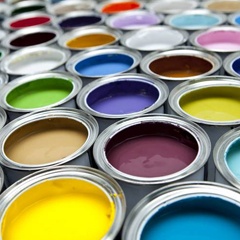 Right from the start, we've made it a point to only employ the best people and provide our customers with excellent care, which is why we're one of the most prominent independently-owned residential painting companies in the DFW Metroplex. Whether your project involves one room or your entire house, you can look forward to a seamless experience and excellent craftsmanship that turns your design visions into a beautiful reality. Our team can't wait to help you on your next project!