Commercial Painting – Flower Mound, TX
Set the Tone of Your Business with a Positive First Impression
A fresh coat of paint in a memorable, but non-offensive color can truly set the tone of a commercial space in a community, whether your goal is to invite people in or welcome employees each day as they come into work. At Platinum Painting of Flower Mound, our team of licensed and fully insured professionals is one that you can trust to get the job done safely, efficiently, and with minimal disturbance to the workers and people around them. Give us a call today to schedule a free in-person estimate!
Why Choose Us?
Insured & Licensed Professionals
Locally Owned & Operated
Trusted by North Texans
What We Paint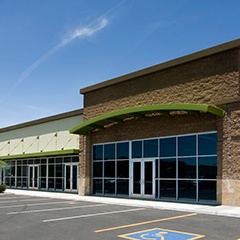 Whether your job is large-scale or small, our team at Platinum Painting of Flower Mound is armed with the proper skills and equipment necessary to tackle it in a timely manner. We paint commercial spaces of all types, including but not limited to apartment buildings, religious buildings, hotels, office spaces, shopping centers, and strip malls. We also paint both interior and exterior spaces, so you can stick with the same, trusted team for all of your needs.
Our Painting Process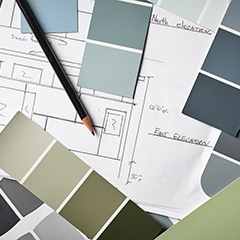 Our comprehensive painting process always begins with one of our estimators traveling to the site to provide you with an in-person approximation of the cost of the project based on the measurements and overall scope of the job. Once you decide to move forward with our insured and licensed team of professionals, we will schedule a time for them to come out and make your vision come to life. Typically, that takes place over multiple steps:
Setup: We'll remove any décor and cover all furniture to ensure no paint gets on these items. If you have anything valuable that you want removed, we ask that you please take care of that before our team arrives. To ensure the best possible results, we'll inspect and clean them, filling in any holes or damage so we begin painting on the perfect canvas.
Painting: Our team typically goes with Sherwin Williams' interior and exterior paints due to the quality, but we're happy to use your preferred brand if you have one.
Cleanup: Upon completion, our team will clean up any leftover materials like plastic coverings, tape, and paint cans so you don't have to! We want you to enjoy your beautiful business after, not worry about cleaning up someone else's mess.
Final Inspection: Before the job is officially complete, we'll walk with you through the building to make sure you're happy with the results. If any aspect of the job doesn't meet your expectations, we'll correct it right away. Only when we receive your final approval will the job be complete.
Color Consultations Available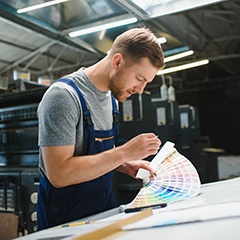 If you're unsure of what color(s) of paint to use for the interior or exterior of your commercial building, our team consists of color consultants who can assist you in this part of the process. They have extensive knowledge of the latest designs and trends to help narrow down your options. Many of our clients utilize this service and love the results!