Interior Painting – Flower Mound, TX
Love Your Living Space
People don't often think about this, but we spend a lot of time in our homes. Whether we're working in the office, relaxing at the kitchen table, or just hanging out with family in the living room, the look and feel of your house is extremely important to your quality of life. Whether you simply want to refresh a room to make it more interesting or bring it into the 21st century, Platinum Painting of Flower Mound can help you do it with our interior painting services. Using our skilled hands, top-brand products, and time-tested techniques, we can turn any room into your favorite with just a few well-placed coats of paint. To get a free estimate, give us a call today!
Why Choose Us:
Based in Flower Mound
Insured
Satisfaction Guarantee
Serving All of North Texas
What Can We Paint?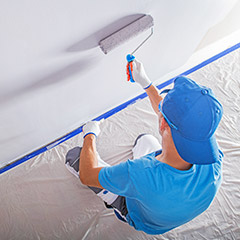 Platinum Painting has served over 10,000 families since we first began, which means we have experience with just about every kind of space you can imagine. From single rooms to small condos to sprawling mansions, if it can be painted, trust that we can make it look spectacular. Our interior services include:
Walls (any height)
Ceilings (any height)
Doors & Windows
French Doors & Windows
Mantels
Bookshelves
Paneling & Wainscotting
Cabinets & Wood Shelves
Baseboards & Crown Moldings
Chair Rail Moldings
And much more!
The Steps of Interior Painting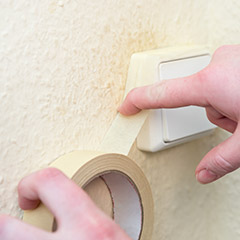 Prep: The right prep will make the job so much easier and go so much faster. We'll remove all drapery and pieces of furniture from all requested spaces, and then we'll caulk and sand where needed along doorjambs, baseboards, and ceiling crowns. For more delicate and precious items, we'll leave moving them out of the way to you so you can feel nice and secure. To learn more about this process, take a look at our Getting Started page.
Paint: The main event! After we've primed and prepped everything, we'll apply your chosen color(s) using high-quality Sherman-Williams paint to create a beautifully even and uniform finish.
Cleanup: Once we're finished painting, now it's time to make it look like we were never there. We'll sweep, vacuum, take out the trash, and put everything back in its place so that it looks like your house "magically" painted itself.
Inspection: We'll show you everything we've done and give you a chance to express any concerns or ask for adjustments. No detail is too small—if you see something, say something, and we'll take care of it. We won't consider it finished until you're 100% satisfied!
Dedicated Color Consultation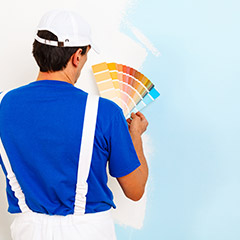 If you're like many of our clients, you know that you want to paint a room or two, but you have no clue as to which colors to choose. There is an almost endless variety of shades and combinations, which can quickly become overwhelming. We can take the stress out of this part of the painting process as well with a one-on-one color consultation.
A member of our team will come to your house, talk to you about your goals, look at the space, and help you work through your options so that you can make choices with peace of mind. To help you get some general ideas, you can also use the Paint Color Visualizer from Sherwin-Williams to play around with different colors and see what works for you.
Interior Painting FAQs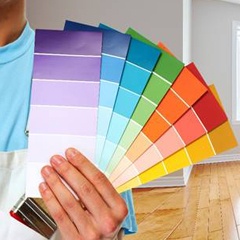 Hiring a service company to perform improvements in your house requires a certain amount of trust. After all, you're inviting that company into your home, where you eat, sleep, relax, work, play, and live. We completely understand, because we're homeowners too! At Platinum Painting, we reward the trust our clients put in us with excellent customer service and quality painting results that they love—guaranteed. We work hard so that when we're done, you'll want to recommend us to your friends, family, and neighbors. To help you get to know us better, below are some common questions about our interior painting services.
What do you do to protect my belongings?
Your possessions have value, whether monetary or sentimental, and we will show them the respect they deserve and treat them with care. To ensure that nothing gets damaged while we work, we remove all furniture and drapery from the area. We leave fragile and meaningful items for you to take care of so that you can rest assured about their condition. After we finish, we thoroughly clean the area—sweeping, vacuuming, picking up any trash—and reposition everything the way we found it. When we leave your house, we want the only indication that we were ever there to be the flawless paint on the walls.
How long does the process take?
At Platinum Painting, we know that your time is valuable. Since our beginning in 2008, we've refined our process to get our job done quickly without cutting any corners. When you first contact us, we are usually able to send one of our experienced estimators to your house within two to four days. After you receive your estimate, we can schedule work as early as two weeks later. We use this period to prepare our supplies so that we don't waste any time during the project. How long it takes to complete the actual job depends on the number and size of rooms that we're working on. But you can bet that our team of professionals know how to work efficiently and effectively.
Can you paint really high ceilings?
Yes, we certainly can. Having served over 10,000 homes in North Texas, we've seen and done it all! From small condos to sprawling mansions, our experienced team can tackle any painting project no matter how big or small. And yet, with each project, we are sure to attend to every detail, making sure our customers are completely satisfied with our work. For all our jobs, especially the more complicated ones, our talented estimators are careful to give you an accurate estimate for the project so that you have fewer surprises down the road. It's all part of our commitment to make you happy!
Do you help me pick the colors?
Changing the paint color of your rooms can completely transform the look and feel of a room. You may feel excited when you start, but with so many color choices available, picking the right paint can quickly become an overwhelming task. That's why we can provide a color consultation with one of our team members. They can provide useful advice and help you narrow the seemingly limitless options down to the perfect ones for your home. In addition, we source our paint from Sherwin-Williams, so you can use their Paint Color Visualizer to better envision how the final product will look.