Brick Painting – Flower Mound, TX
Refresh Your Brick Exteriors
Brick homes can have beautiful exteriors, unique character, and texture. However, like some stained wood, there are some brick tones that can actually impair your home's visual appeal. Have you considered painting over the brick? You may be hesitant about this at first, because you can't undo it if you change your mind, but our experts at Platinum Painting can help your home stand out in the best possible way. By the time we're finished, you'll wish you had done brick painting sooner!
Why Choose Us:
Based in Flower Mound
Insured
Satisfaction Guarantee
Serving All of North Texas
Benefits of Brick Painting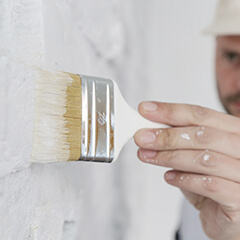 It's true that painting brick is permanent, but tons of before-and-after photos show that this change can have a powerfully positive impact on curb appeal. Below are just a couple of the advantages that painting your brick exteriors can offer.
Brightening Up Your Home
A few decades ago, earthy, Tuscan colors were very popular for brick. Now, however, certain shades of raw brick can too easily blend in with the surroundings. Worse still, other brick colors can make the house look dark and uninviting. That's where painting the brick can provided a much-needed change. With a contrasting lighter tone, your house can feel brighter and more welcoming.
Protection from the Elements
When it comes to houses, water damage is among the worst problems to have. Any extra protection you can get from Mother Nature is a good thing. With its porous surface, brick as well as the mortar can eventually erode or crack because moisture can become trapped. With time, this could lead to easier access points for water to penetrate to your home's interior. We use a specially formulated primer and paint to add another layer of protection against the crazy North Texas weather.
Process of Brick Painting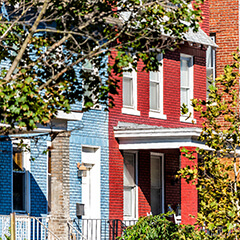 As experts in exterior house painting, our team at Platinum Painting knows exactly how to approach this unique project. This rough surface differs from siding or stucco and entails more detailed work, which is why we do the following:
First, to remove dirt and grime, we'll power wash the brick.
When it's dry, we'll look for any cracks or gaps and carefully caulk or fill them in to create a protective seal.
We will then apply specially formulated primer meant for masonry.
Afterward, we'll put on several thorough coats of the proper paint to cover the porous brick without trapping in moisture.
Finally, we'll clean up all our supplies and any messes and have you inspect and approve our work, allowing you to point out any areas of concern.