House Painting – Flower Mound, TX
Transform Your Home For The Better
Do you wish that your home was newer, cleaner, and more in line with your personal aesthetic? With Platinum Painting of Flower Mound, we can help you meet all of these goals at the same time with one expertly planned and executed house painting job. Our house painting services cover a comprehensive variety of needs, as we can do everything from a single room to an entire house—both inside and outside! No matter the size of your project, we'll take the time to provide supreme craftsmanship and high-quality customer service from start to finish. To learn more and even get a free estimate for how we can revitalize your home in Flower Mound, contact us today!
Why Choose Us:
Based in Flower Mound
Insured
Satisfaction Guarantee
Serving All of North Texas
Why Should You Paint Your Home?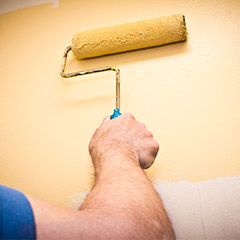 Think that painting your house will just change its color? Think again! Getting a high-quality professional paint job can do so much more for your home, such as:
More Curb Appeal & Resale Value: First impressions are everything, and that's especially true if you're selling your house. Studies have shown that the exterior/interior paint of a house can have a direct effect on its property value, meaning it's an easy way to actually increase your resale price for a relatively small investment.
Protection: House paint provides a barrier for your house against rain, sleet, snow, and the unrelenting Texas sun. On the inside, the right paint can help walls and ceilings resist wear and tear as well.
Less Dirt & Dust: Everyone enjoys a clean house, and by painting the interior surfaces of your home, you can lower the dust level tremendously (especially if you have plaster walls).
Budget-Friendly Remodel: If you're ready to make a big change but don't have the money to knock down walls or buy expensive fixtures, new paint can make a huge difference in how your house looks and feels. You can fully personalize and customize your house for a fraction of the cost of a typical makeover.
The Benefits of Professional Painters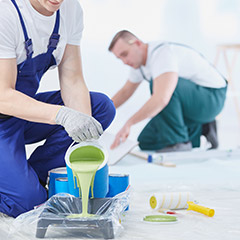 So a fresh coat of paint can do wonders for your house—why not just do it yourself? Thanks to the internet, DIY projects are easier than ever, right? While this approach may be fine for small updates, bigger tasks are best left to the professionals if you want to guarantee a great result that doesn't end with a huge mess. When you partner with Platinum Painting, you'll get to enjoy all of the following benefits:
Our team only uses the highest-quality paints, tools, and personnel so that a job not only ends up looking great but is guaranteed to last as well.
We'll handle the cleanup! We'll protect your furniture and carpet with fresh plastic every day and won't leave a speck of dirt in or around your home.
We're trained in the latest painting and texturizing techniques, giving you more options than ever before.
While we work, we can also repair any minor damage to your house, including holes, cracks, stains, and scuffs so that everything ends up looking pristine.
Residential Painting Specialists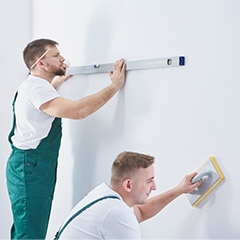 At Platinum Painting of Flower Mound, we only do interior and exterior residential painting, and thanks to focusing on this one area, we're able to do so much more for our customers compared to your typical painting company. We'll have answers to all your questions, be able to offer ideas, and no detail (no matter how small) will get past us. We'll treat your house like it's our very own, and you'll just need to sit back and relax while we turn your house into something truly spectacular.
With us, you will only experience the very best from your first phone call to our last inspection. Communication will be quick, expectations will be clear, and the work will be world-class. This is just how we do things, and it's why we've been top-ranked on Angie's List since 2010. To get your free estimate so we can start transforming your house, give us a call today.
Frequently Asked Questions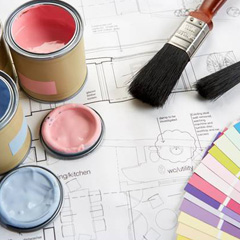 When choosing a service company to perform improvements on your home, you want to make sure that you're confident in their ability to do the job right. At Platinum Painting, we completely understand! After all, we're homeowners too. To help make the decision process easier for you, we've provided the answers to some common questions that we've been asked in the past. If you have any other questions about us, we invite you to give us a call! We will gladly address your concerns and give you all the information you need to feel comfortable with selecting us for your next painting project.
How many houses have you painted?
In the more than ten years that we've been in business, we have painted over 10,000 homes in North Texas. In that time, we've worked on mansions, on tiny condos, and everything in between. As a result, we know how to handle any painting project with efficiency and precision. Many of our team members have been with us since the beginning, bringing years of industry experience to every painting job, whether big or small. With all our growth, one thing that will never change is our commitment to satisfy every client from the very first phone call in the beginning to the completion of the work.
What prep work do I need to do before you start?
We know that you want a work crew in your house for a little time as possible. That's why we ask that you do a few things before we arrive so that we can get right to what we do best. First, remove all pictures or paintings from the walls that we will paint. Also move any knickknacks or items from tables or mantles. If we are painting a closet, please empty it completely. Keep your pets away from our work areas (whether inside or outside), and take down all pet or child gates so that we can maneuver freely. For exterior painting jobs, please turn off the sprinklers so that your paint can dry properly. Also, take down anything that is hanging on the walls outside.
Is there an advantage to painting the interior and exterior at the same time?
There sure is! Part of satisfying our customers includes saving money for them when and where we can. Tackling both interior and exterior painting projects simultaneously can save you time and money on labor. We want to make sure that your paint looks amazing, so we apply multiple coats, which means that we have to wait for the paint to dry in between. If you have both interior and exterior painting projects for us, we can alternate painting them, enabling us to use our work time more efficiently and get more accomplished than if we approach your exterior and interior projects on separate occasions.
What type of paint do you use?
Because Platinum Painting is a locally owned and operated service company, we are completely devoted to meeting our customers' needs. That means that if you want to use a specific paint brand or a specific paint store, we are flexible and will happily adapt to your preferences. If you don't have any favorites that you'd like us to use, we source our paint through Sherwin Williams because of their consistent quality and affordable pricing. For inside painting work, we typically choose their Cashmere Interior Acrylic Latex, and we use SuperPaint Exterior Acrylic for outside projects.