September 3, 2023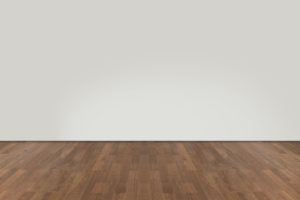 Dark wood floors are known to exude elegance and create a dramatic backdrop for any home's interior. Their rich tones provide a sense of warmth and depth, making them a popular choice among homeowners all over. However, choosing the right paint colors to complement dark wood floors can be quite a challenge. The goal is to enhance the floor's beauty while also creating a harmonious balance within the space. This isn't always an easy task; still, with the assistance of a skilled team of professional painters, it is very possible! Continue reading below to learn more about some of the best paint colors that can elevate rooms with dark wood floors.
Crisp White Walls Can Add Visual Space
When you think of light colors, white is probably the first to come to mind. Pairing dark wood floors with crisp white walls can create a timeless look; white provides a clean canvas that allows dark wood flooring to truly stand out, no matter the style or tone. This combination creates a striking contrast and adds an air of sophistication to any room. Consider shades like pure white or soft ivory, but if those are too vanilla for your taste, you can try off-white colors like crème for those desirable yellow undertones.
Earthy Neutrals Exude Warmth and Comfort
Earthy neutral tones such as beige, taupe, and greige (a blend of gray and beige) work exceptionally well with dark wood floors. These colors provide both warmth and comfort, while also creating a very cozy ambiance! Earthy neutrals also complement the natural hues of the wood, and since these tones are so versatile, they can be used in various rooms including living rooms, bedrooms, and more. Consider shades of brown and gray, but don't shy away from darker neutrals like charcoal or black brown.
Cool Grays Increase Modern Elegance
If you're aiming for a more modern look, consider coupling your dark wood floors with cool gray walls. Shades like charcoal, slate, steel gray, and other similar grays can all add elegance to your space while also creating a sleek contrast against the natural warmth of the wood flooring. This combination works exceptionally well in contemporary interiors. You can also utilize grayish greens and bluish grays, as these colors are perfect if you want to add a pop of color and a refreshing vibe to your space.
Soft Blues and Greens Can Establish a Tranquil Retreat
For a calmer atmosphere, you might consider opting for soft blue or green hues. Light shades of aqua, teal, or sage can create a serene environment when paired with dark wood floors. These colors bring a slight touch of nature to your home, evoking a sense of harmony and creating a space that makes it easy to kick back and relax. Use these colors in bedrooms, bathrooms, or even living rooms to transform your space into your very own peaceful retreat.
About Platinum Painting of Flower Mound
Platinum Painting has proudly assisted homeowners all across Flower Mound and the rest of the DFW metroplex for over 15 years, and they'd be honored to assist you with your next big painting project! If you have any questions about the blog or you'd like to set up a FREE in-home estimate, feel free to contact the team through their website or over the phone for assistance. Telephone: (214) 225-9871.
Comments Off

on The Best Paint Colors for Enhancing Your Dark Wood Flooring
No Comments
No comments yet.
RSS feed for comments on this post.
Sorry, the comment form is closed at this time.