August 2, 2023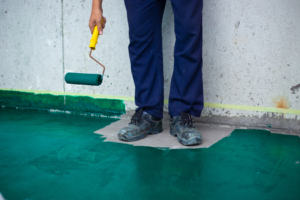 Painting your home can be a fantastic way to breathe new life into your living space and add a fresh, vibrant feel to your surroundings. However, even seemingly simple painting projects can quickly go off the rails if you aren't careful and make careless mistakes! But knowing what to do and what not to do can easily ensure that your results look as splendid as you're imagining. To help you achieve the best possible results, here are a few of the most common mistakes that people make while painting, along with some ways to avoid them!
Mistake #1. Skipping Out on Prep
One of the biggest mistakes homeowners make when painting is simply rushing the process and diving into things without adequately preparing! Skipping tasks like cleaning, sanding, repairing, and priming can lead to poor paint adhesion and an uneven finish, among other issues. Don't underestimate the importance of primer; applying it creates a base for the paint to adhere to. Also take the time to prepare your surfaces correctly for a smoother, longer-lasting paint job. Proper ventilation also needs to be confirmed. Experts agree that skipping prep is usually the biggest difference between DIY painters and professionals, so if you want the best possible results and adequate preparation, opt for hiring a team!
Mistake #2. Using Cheap Tools & Paint
Low-quality brushes, paint rollers, or even cheap paint itself can lead to poor results, and while it might be tempting to save money on these things, you'll wish you had spent the money later on when you're forced to repaint early! You should invest in premium tools; good brushes and rollers offer better coverage, which translates into better paint usage. It's worth noting that professional painters will use the best tools and paints available!
Mistake #3. Neglecting Clean Up
Once you've finished painting, it's crucial that you spend the proper amount of time cleaning up; you want to protect your investment, after all! Make sure that all brushes are picked up and washed, tarps and pieces of tape are tossed out, leftover paint is cleaned up, and any other debris is sorted. It's worth mentioning that properly cleaning your brushes can extend their lifespan, so you won't have to buy more for your next project! It's also worth noting that a team of pros includes thorough cleanup in their cost, which is another reason to leave it in their hands!
About Platinum Painting of Flower Mound
The team at Platinum Painting prides itself on excellence, and they've assisted countless homeowners in the Flower Mound area with a wide range of painting projects. If you have any questions about the blog or you'd like to set up a FREE in-home estimate, don't hesitate to contact the team online or by phone today for assistance. Telephone: (214) 225-9871.
Comments Off

on 3 Costly Mistakes You Shouldn't Make When Painting
No Comments
No comments yet.
RSS feed for comments on this post.
Sorry, the comment form is closed at this time.