June 2, 2023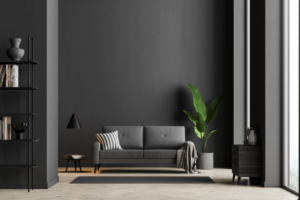 If you enjoy flipping through interior design magazines or scrolling through webpages that feature beautiful designer homes, you might be wondering just how these spaces always seem to look so harmonious. The furniture always seems to be positioned perfectly, the blinds are drawn just enough to let in the ideal amount of light, and the color scheme is both creative and inviting—so how is it done? One secret is color-matching and coordinating the walls of the space with the furniture residing within it. Here's how this paint color trend can masterfully bring things together and leave you feeling pleased with the state of your living space.
Don't Match Colors; Coordinate Them!
It's worth noting that the term "color-matching" doesn't necessarily mean using the same colors for your furniture and your walls, but rather, it means finding different combinations of colors that can meet your needs. That's not to say that you can't simply use the same colors for your walls and furniture; however, a much wider variety of design goals can easily be achieved by creatively using varying degrees of colors.
Use Neutral Shades
You can't go wrong with using neutral colors on your interior walls, and you'll have a tough time finding a color that seems to clash with shades of gray, beige, or white. Given all of the different colors, designs, and patterns that furniture can come in, not only will your current furniture look nice against neutral colors, but any future purchases will also fit right in without you needing to repaint your walls.
Take Advantage of Contrasting Colors
However, if you have a boldly colored piece of furniture or something that really seems to stick out, you might be scratching your head as you're thinking about how to make it look nice. This is where using contrasting colors can come in handy, and designers praise this method for the off-beat, energetic feeling it can provide to a room. For example, a yellow couch might seem out of place at first, but in front of light violet walls, it might look fantastic! Contrasting colors can come from the opposite side of the color wheel, like red and green, or they can even be closer to each other, like red and yellow.
Consider Different Shades of the Same Color
You might also consider painting your walls the same color as your furniture but using a darker or lighter shade. For example, a navy-blue couch could work very well with pale blue walls or a sky-blue rug bringing the whole room together. This also opens up the possibility of using various shades of color to accent certain parts of a room or certain pieces of furniture.
The bottom line is that when it comes to interior painting, it's usually in your best interest to implement some type of matching color scheme for your walls and furniture, given the many aesthetic benefits the practice can offer your home. If you'd like additional help with deciding what colors to use for your walls, don't hesitate to contact a professional painting service today for expert guidance and unmatched assistance.
About Platinum Painting of Flower Mound
At Platinum Painting of Flower Mound, we've helped hundreds of homeowners around Flower Mound and the surrounding areas with a wide variety of paint projects, and we look forward to helping you next! We're proud to offer several different kinds of services including interior house painting to help you liven up your living space. If you have any questions about the blog or you'd like to get in touch with us to set up a free estimate, don't hesitate to contact us today! Telephone: (214) 304-7133.
Comments Off

on Does My Paint Need to Match My Furniture?
No Comments
No comments yet.
RSS feed for comments on this post.
Sorry, the comment form is closed at this time.