April 14, 2023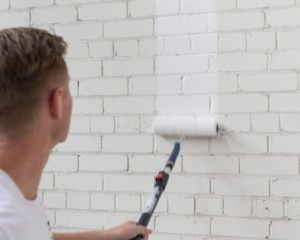 Whether you're planning an extensive remodel, constructing a brand-new home, or simply hoping to update an older brick wall or fireplace, painting your brick can provide your home with a timeless look and feel. That said, if you want the best results possible, you shouldn't dive headfirst into this process without knowing a few things first. Here are three key things to keep in mind about exterior brick makeovers.
Careful Planning & Preparation Is Key
One reason that many homeowners opt for undergoing an exterior brick makeover is that it gives them a large amount of control over what the final results look like in terms of color—basically, you can choose any color you'd like! That said, it's still worthwhile to consider colors or a scheme that compliments the architecture of your home, but also something that looks good against the natural scenery surrounding your home, including even neighboring homes. Looking at and testing out various samples might also assist you with this. It's worth noting that these days, shades of white are quite a popular choice for exterior brick, especially when the end goal is to sell.
You'll Want to Work with Clean & Uncompromised Brick
After you've done your research and you know what type and color of paint you're going to select, you'll want to ensure that your brick surface is clean, uncompromised, and ready to be transformed. Bricks need to be completely clean and dry before they can be painted, and even once they've been painted, their surface needs to be kept intact. You should pay close attention to areas with cracks, chips, mold, mildew, or other visible issues too; you wouldn't want to spend all of that time and money painting a surface that was secretly degrading!
Your Project Will Require a Special Type of Primer
When it comes to exterior brick makeovers, it's important to note that a special type of primer formulated for masonry is required in order to ensure optimum results. These primers work to seal and protect the underlying brick from moisture or anything else that might compromise it, meaning that when your paint is applied, it'll look great and endure for quite some time. Once the primer's dry, the painting can commence!
You shouldn't feel any hesitation or experience doubt when it comes to an exterior brick makeover; the transformation your home is about to undergo is well worth all the time and effort spent planning and preparing!
About Platinum Painting of Flower Mound
Here at Platinum Painting of Flower Mound, we've helped countless homeowners around the Flower Mound area and across the DFW metroplex to achieve outstanding results with all sorts of projects, including exterior brick painting. If you think your home might benefit from an exterior brick makeover, don't hesitate to contact our team today for additional information or to schedule a consultation. Telephone: (214) 304-7133.
Comments Off

on What You Need to Know About Exterior Brick Makeovers
No Comments
No comments yet.
RSS feed for comments on this post.
Sorry, the comment form is closed at this time.