April 6, 2023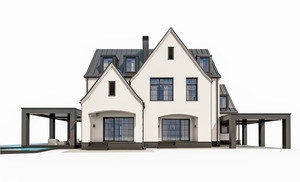 If you have been considering giving the outside of your home a new coat of paint, you might be wondering what colors are currently trending in 2023. Right now, many designers are heavily favoring warm off-white. This might seem like a fairly basic choice, but there are plenty of reasons that can help explain the current popularity of this color; here are a few key examples.
Reason 1: Off-White is Timeless
When it comes to home design, it's very common for a specific color to rise to prominence among designers, only for its popularity to fall shortly afterward. But with off-white, that likely won't be an issue, as this particular color is very consistently favored. You can get in on the current trends now without having to worry about your home looking out of date in just a few short years.
Reason 2: Off-White Isn't as Blinding as Pure White
On a bright, sunny day, it may take your eyes a little bit to adjust when you go outside or get out of your car. If your home is painted with true white, then the light it reflects will be even harsher on your vision. Meanwhile, warm off-white – while still a nice, bright color – tends to be much easier to look at. You can admire the beauty of your home from the outside without worrying about your eyes hurting.
Reason 3: Off-White Complements Natural Tones Well
The right color for your home depends on the environment surrounding it as well as any natural elements that have been incorporated into its design. For example, there are probably at least a few plants and trees in your front yard, and your actual home most likely has some wood, stone, or brick on it. Off-white tends to match all of these elements quite well, ensuring that it draws attention for the right reasons.
Reason 4: Off-White is Suitable for Various Styles
Homes come in all different shapes and styles, from the older classics to more modern designs. One thing that almost every style of home has in common, however, is that they tend to go extremely well with off-white. In other words, no matter what kind of home you have, off-white is an option worth considering.
While you should never rely on trends alone to make decisions regarding your home, there are plenty of advantages to choosing off-white; make sure to give it some serious consideration if you're thinking of having any exterior painting done in the coming year.
About Platinum Painting of Flower Mound
At Platinum Painting of Flower Mound, we take pride in our work and aim to give all of our customers the beautiful homes that they deserve. We offer a satisfaction guarantee with each project, including all interior and exterior painting. If you have been thinking of making a few improvements to your own home, get in touch with us by visiting our website or calling (214) 304-7133.
Comments Off

on Why Off-White Has Become a Popular Exterior Painting Trend
No Comments
No comments yet.
RSS feed for comments on this post.
Sorry, the comment form is closed at this time.