August 10, 2022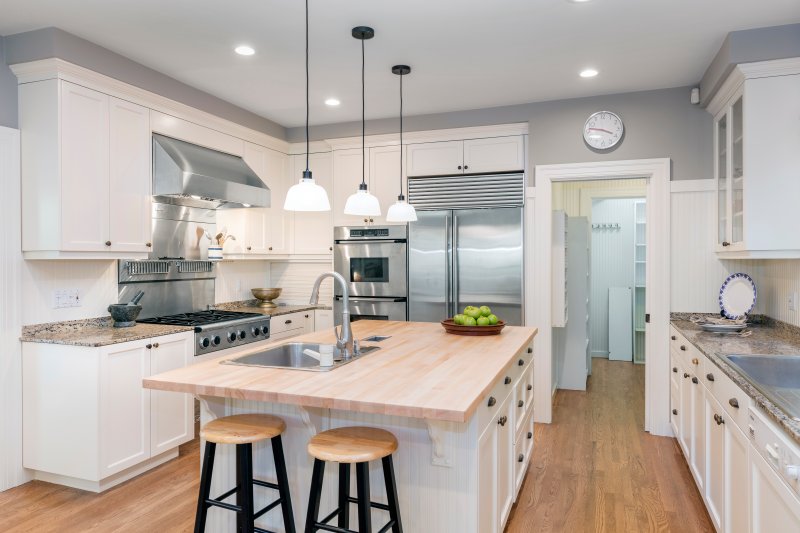 While colors like orange and yellow are fun, they're not the best choices for kitchen cabinets. Oftentimes, they give people flashbacks of the past and make your home look outdated. If you're thinking about painting your kitchen cabinets, you should consider a more classic color that'll stand the test of time. Read on to learn which colors can freshen up your kitchen and help your cabinets stay in style for years to come.
White
There's no other color that'll make your kitchen look more refreshing and cleaner than white. It'll give your space an airier and lighter feel! Best of all, white kitchen cabinets pair well with essentially any other color scheme. If you don't want to choose a true white color, you can also go with a warm or cool version of white. It'll still have the same effect!
Gray
Similar to white, this neutral color goes well with multiple different colors and styles. It can also add more depth to your kitchen! Not only can dark gray make your space look more sophisticated, but the color can hide little scuffs and other noticeable flaws.
Black
If you want to make a bold statement, consider choosing black! The deep color can make your home look modern and elegant. Since going completely black can be overwhelming, you can try painting the bottom cabinets black and the upper cabinets in a contrasting neutral shade. Another option is to simply paint the island black while leaving the other cabinet another color!
Navy Blue
This unique color is an excellent choice for kitchens with wood and metal finishes, like copper or brass. Navy will really make these elements pop! It can also help highlight other features in your kitchen, like your faucets and handles.
Sage Green
Believe it or not, this color is considered safe and lasting! It's a nature-inspired choice that'll make your kitchen feel calm and relaxing. If you only want to add a hint of this color to your kitchen, you can use it to paint only your island cabinetry.
As you can see, choosing the right classic color for your kitchen cabinets can make your home look timeless. With any of the options listed above, you can enjoy a space that'll look good for years to come!
About Platinum Painting of Flower Mound
At Platinum Painting of Flower Mound, we'll make your kitchen look brand new with our budget-friendly cabinet painting services. Our skilled and knowledgeable team will give you the kitchen of your dreams at only a fraction of the cost of a traditional remodel. For an estimate, visit our website or call (214) 304-7133.
Comments Off

on Classic Paint Colors for Your Kitchen Cabinets
No Comments
No comments yet.
RSS feed for comments on this post.
Sorry, the comment form is closed at this time.