May 5, 2022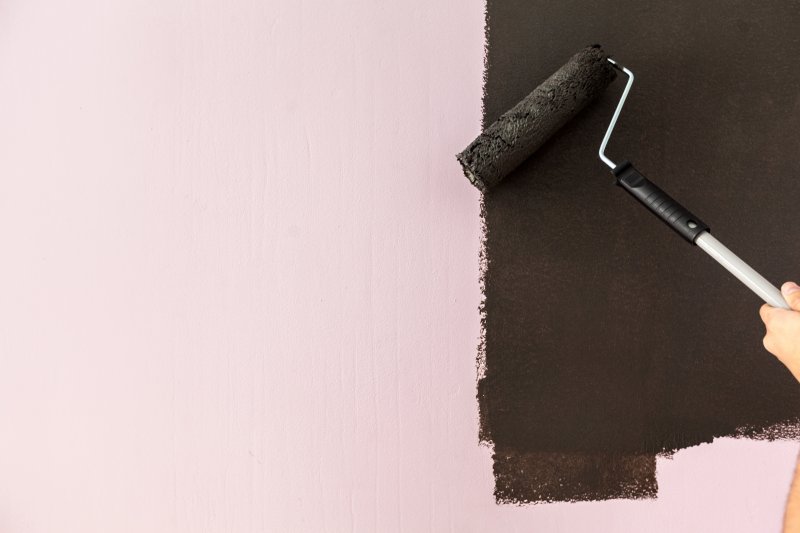 Black paint has become all the rage in recent years. It's a fabulous way to update your home and create an elegant aesthetic. While it certainly makes a bold statement, it can also be considered classic because it complements many types of furniture and décor. If you're thinking about hopping onto this hot interior painting trend, there are a few things you should know before you pick up a brush. Read on to learn a few helpful tips for using black paint.
Choose Your Surfaces Carefully
If you're thinking about painting your walls black, the first thing you need to do is choose your surfaces. It may be your walls, the trim, or even your door – the possibilities are endless! However, it's important to choose the right areas to avoid making your room look overly dark and uninviting.
One excellent way to use black paint is to create an accent wall. When paired with three lighter walls, you can make your room look more spacious. You can even paint your ceiling black to add sophistication and depth to your space! Another option is to paint the entire hallway or powder room black. In that case, you should consider painting the baseboard and trim a lighter color to create some much-needed contrast.
Find the Right Black Paint & Sheen
The next step is to find the right paint and sheen. Most people may not know this, but there are two different types of black paint: cool and warm.
Cool black paints contain blue or violet undertones, making them a great choice for interior trim and doors. Meanwhile, warm black paints have brown or true black undertones and are extremely versatile. They're good for accent walls, trim, or even cabinetry. When it comes to sheen, matte paint might look the best, but it's not as durable as eggshell or satin blacks.
Pay Attention to Lighting
Since black paints absorb light, you're going to want to make sure the room you're painting is well-lit. Otherwise, your space may feel constricting and boxy instead of cozy. You should try and make sure the room gets plenty of natural light or has proper light fixtures. If your room doesn't have windows, you can always add overhead lights, wall lights, and floor lamps.
Incorporate Lighter Décor
Choosing the right décor, furniture, and accents can make your space look way more cohesive and inviting. It's a good idea to choose contrasting colors to offset the dark hues, like bright throw pillows, a bold sofa, a cream headboard, and white picture frames. These elements will make your room feel lighter, airier, and cozier.
If you want to paint your walls black, consider hiring a professional painting crew. They have the knowledge and skills to make your dream interior design vision a reality!
About Platinum Painting of Flower Mound
At Platinum Painting of Flower Mound, we're dedicated to giving you the high-quality, stunning results you deserve. Our team will take the time to listen to your needs and goals to ensure the project is done to your complete satisfaction. For a free in-home estimate, visit our website or call (214) 304-7133.
Comments Off

on Painting Your Walls Black? Check Out These Helpful Tips!
No Comments
No comments yet.
RSS feed for comments on this post.
Sorry, the comment form is closed at this time.