April 13, 2022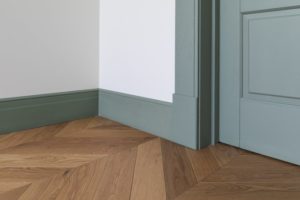 You like the clean, crisp look of white walls, but you aren't the cookie cutter type. Can you do something original with your interior painting and still have your desired white color on the walls? One trick you may not have thought of is painting the trim a color other than white.
As small accents in a room, the trim provides the perfect opportunity to introduce some contrast into a room without making an overwhelming statement over the entire wall. Read on to learn why you should consider staying away from white trim and what your best color options may be.
Choosing a Color Other Than White
Regardless of the design era, white walls are in style. However, you can have too much of a good thing. Having the same color on the walls as the trim doesn't exactly make a statement—other than boring. But selecting a different color for the trim can give the room some personality before you factor in the furniture and décor.
Even if you have walls that aren't white, you should at least think about painting another color besides white for the trim. You can use this contrast to create a truly unique, stunning look that attracts the right kind of attention in the space.
Colors to Consider
When you have white walls or another versatile neutral color, basically any color can be used for the trim to create contrast. However, here are some of the more popular choices for non-white trim:
Creamy off-white
Gray, greige, or another color with gray in it
Black
Navy blue or other various shades of blue
For walls that are beige, yellow, or green, you may want to think about choosing a dark brown for the trim.
Remember This!
Many homeowners don't realize that not only can the trim be a different paint color, but it also often has a different sheen from the walls. Baseboards, door frames, window trim, and other surfaces tend to collect dust more quickly than the walls, meaning they need to be easy to clean. As a result, many homeowners choose semi-gloss or gloss paints, which also give the trim a shiny, polished look.
Also, if you are interested in other colors for the trim, but are having trouble deciding on the color, you can take advantage of a color consultant, who can offer professional advice and insight. That way, you're sure to make the right pick for your home.
Sometimes in home design, you need to think outside the box and be creative. Although the walls certainly are an opportunity for exploring colors, don't forget about the trim. It can be used to express and highlight the architecture of your home in a special, personalized way.
About Platinum Painting of Flower Mound
Platinum Painting of Flower Mound is one of the top companies for residential painting in North Texas. Since our beginning in 2008, we have painted more than 12,000 homes! Although we do not provide color consultation services within Platinum Painting, we can arrange for you to meet with a third-party expert. Want to schedule an in-person estimate for painting your trim? Contact our Customer Care team today to get started!
Comments Off

on Going Beyond White Trim: Why You Should Consider Other Colors
No Comments
No comments yet.
RSS feed for comments on this post.
Sorry, the comment form is closed at this time.