January 17, 2022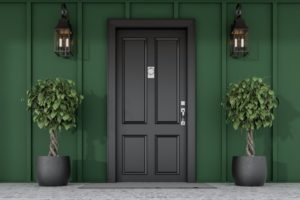 This year, you want to check some home projects from your to-do list. Maybe you're preparing to put your house on the market, and you want to have an advantage on the competition. Or perhaps you just wish to like what you see when you're outside looking at your home. Either way, 2022 is a great time to create a beautiful, welcoming sight with exterior paint.
Before you open any paint cans, you may want to know current exterior paint trends from designers. Read on to learn what's favored right now and how to give your home a new, attractive look!
Warm Neutrals
Regardless of the year, some color palettes come back in style over and over again. For example, warm, off-whites are classic neutrals that continually become a favorite of designers. These comfortable off-white shades are perfect for inside or outside the house, and they work very well with many other colors to create a clean, yet cozy setting.
White
Whether you're using it as the primary color or a highlight, true white tones are very popular at the moment. But don't worry about the white paint blinding you and whoever passes your house! There are a lot of subtle and gentle white hues. Choosing the right one can help your house be striking and classic at the same time.
Darker Hues
Looking for a color with dramatic flair? You can opt for a darker shade of gray or gray-green hues. These balanced colors are moody and bold, but not as heavy as black. Plus, they can be easily used with wood tones and stone, creating a warm, homey atmosphere.
Natural Green Tones
Does nature soothe you? Would you like to bring some of it home with you? This year, green, which is one of the most natural colors, is a huge hit with designers. Even if you aren't a fan of natural tones, most green hues are trending, providing you with many unique, beautiful choices to pick from. Green also pairs well with a variety of neutrals, so you can still have a stylish look if you choose to use green as a highlight color.
Why the Right Exterior Paint Matters
Do you plan on being in your house for a long time? You still need to keep your property updated for eventual resale down the road. Buyers like to know that a house has been well cared for before they put in an offer. In addition, the exterior paint does more than just make the house pretty to look at, it also protects your home against the weather.
Whether you live in your house for the next 30 years or sell it next month, your exterior paint can establish a warm, welcoming feeling before you even set foot inside. By keeping on-trend colors in mind for the exterior, you make your home stand out in the best possible way!
About Platinum Painting of Flower Mound
As the #1 company for residential painting on Angi in the Dallas-Fort Worth area, Platinum Painting has been serving homeowners for well over ten years now. We started small in Keller and have since gained customers' trust North Texas. In fact, we are proud of our reviews and take pride in customer satisfaction. Whether helping with free, in-person estimates or doing the final inspection after painting, we put you first. Are you interested in getting a quote for your exterior painting project? Contact Platinum Painting of Flower Mound today!
Comments Off

on 4 Exterior Paint Trends Turning Heads in 2022
No Comments
No comments yet.
RSS feed for comments on this post.
Sorry, the comment form is closed at this time.