June 16, 2021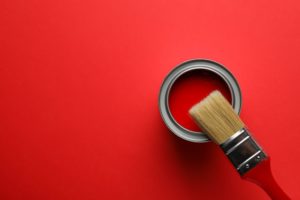 At first glance, painting a room in your house seems simple enough. Once you've chosen the color of your paint, you may think you're ready to get started—but the truth is that you have another important decision ahead of you. You also need to pick the gloss of paint for the room. But what are the types of interior paint gloss and when should you use them? In this post, you'll learn more about these various types and which rooms are best suited for them.
Flat or Matte
Paints fit into the flat or matte category when they contain less than 2 percent gloss level, meaning that the light that touches this surface is diffused. This quality comes in handy if the room receives direct sunlight or another potentially harsh lighting source and creates a soft, even look on the walls. As a result, this type of paint is also excellent at hiding imperfections. Keep in mind that the matte surface may be difficult to clean after a mess.
Low Sheen
At a gloss level of 3 to 19 percent, low sheen paints can reflect some light and show some details in the wall texture. However, the finish is still fairly rough, making it challenging to clean. This paint gloss is recommended for rooms where you anticipate little activity and where the light source still needs to be softened, such as a guest bedroom.
Satin
Satin interior paints are the perfect middle ground between flat and gloss paints. At 20 to 30 percent gloss level, the satin gloss is easier to clean than the lower sheens but doesn't show as many imperfections as the higher glosses. As a result, this gloss may be a great option for rooms that get a little bit of sunlight and that are more commonly used, such as a dining room or living room.
Semi-Gloss
At 30 to 45 percent gloss, semi-gloss paint makes the paint surface smooth. This feature makes it a popular choice for more frequently used rooms like the kitchen or bathrooms. Here you may encounter spills or messes, and the semi-gloss paint will make it easier to clean the walls. Just keep in mind that semi-gloss paints are more reflective, so it may be too glossy for sunny rooms or for walls that have many imperfections.
Gloss
The highest gloss available for paint is anything above 45 percent. Highly reflective, these paints also show more details on the paint surface than their lower sheen counterparts. Like semi-gloss, high gloss is often used for kitchens and kids' bathrooms.
Hopefully, this explanation helps as you try to pick the paint for your project. Ultimately, if you aren't sure which type of paint you should go with for a particular room, remember that you don't have to make this decision and do the project on your own! The Platinum Painting team knows which type of gloss to use for every room and can quickly give you beautiful results without the stress of a DIY interior painting project.
About Platinum Painting of Flower Mound
Platinum Painting began in Keller in 2008 but has since spread to other North Texas areas, like Flower Mound. With each project, you get a free in-home estimate and a complimentary color consultation. At either of these occasions, you can ask about the gloss of paint we recommend for your home. Our experienced team members can give you professional advice that will meet your needs and give you the look you want. To learn more about Platinum Painting of Flower Mound, just contact us through our website!
Comments Off

on 5 Types of Interior Paint Gloss and When to Use Them
No Comments
No comments yet.
RSS feed for comments on this post.
Sorry, the comment form is closed at this time.