July 29, 2020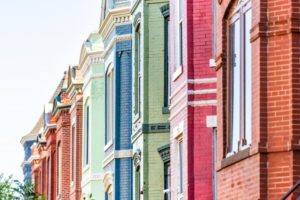 Painting exterior brick on your home can boost its curbside appeal with a modern, clean appearance. However, before you take on such a big project, it's important to consider both the benefits and downsides of the upkeep and labor involved. Read on to learn whether painting the exterior brick of your home is the right decision for you.
Why Is Painting Brick Homes So Popular?
One popular trend to help modernize the appearance of brick homes and boost their curbside appeal is to paint them. It can transform it, providing a more stately, modern, or dramatic feel that separates it from neighboring homes. Some of the most popular exterior color choices are beige, gray, off-white, or other subtle Earth tones that complement your home's natural surroundings. In addition to boosting the appeal of your home, an added coat of paint will help protect the brick from weathering and the elements.
The best way to brainstorm inspiration for your project is to check out blogs and idea boards online. Your professional painter can also offer additional suggestions for painting the exterior of your home during their pricing estimate.
What Should You Consider Before Painting Your Brick Home?
Exterior brick painting is a big decision to make, which is why it's vital to consider all of the details before you commit to the project. As soon as you start painting brick, the process is irreversible, so it's important to be completely confident in your choice. Because the paint is a smooth surface that can easily become dirty, you'll need to have a power washer to regularly clean it so it continues looking great. Additionally, it'll need to be repainted every five to seven years so it doesn't begin to peel or crack, allowing moisture to penetrate the home.
Should You Hire a Professional For The Project?
Brick is a tricky surface to paint, and because you'll need to coat the entire exterior of your home multiple times, it's important to hire a professional in order to achieve the best-looking results. They also know how to properly prepare your home for painting, including fixing any cracks or imperfections in the brick so it doesn't become highlighted once the first coat of paint goes on. They'll have all of the tools and equipment necessary to quickly and effectively finish the project with minimal complications, so the process isn't stressful. Plus, accredited and professional painting companies are properly bonded and insured, giving you the peace-of-mind necessary to commit to such a big change.
About Platinum Painting of Flower Mound
Our team at Platinum Painting of Flower Mound is committed to helping homeowners transform their home by offering exterior and interior painting, wallpaper removal, and popcorn ceiling removal. With ample knowledge and experience under our belts, we're able to guide homeowners to make the best choices to help boost their home's curbside appeal. For questions or to schedule an estimate, visit our website or call 214-304-7133.
Comments Off

on The Pros & Cons Of Painting Your Brick House
No Comments
No comments yet.
RSS feed for comments on this post.
Sorry, the comment form is closed at this time.