September 27, 2019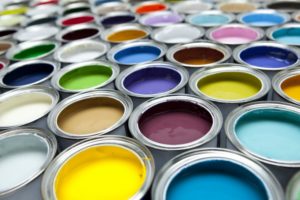 These days, many people are more concerned about what they bring into their homes. For example, even if you don't buy exclusively organic produce, you're likely at least aware of the ingredients in the food you buy. Perhaps you even try to avoid harmful chemicals in cleaning and other household products on top of eating more healthily. When it comes to paint, it's not necessary or even optional to find "chemical-free" painting alternatives (because the chemicals of finished, dry paint do not cause any health concerns), but it is still a smart idea to know what goes into making the stuff you put on the walls of your home. Understanding how paint is made and the ingredients that go into it can help you as you decide which one will best enhance your healthy home.
How does paint work?
Everyone knows that paint in the can is a wet liquid, but when it is applied to the walls, or accidentally left open in the can, the paint becomes dry and solid. That's because many paints available for houses are water based acrylics. When the water evaporates, the particles fuse tightly together and form a strong bond, allowing the paint to protect and decorate the surface.
What is paint made of?
Paint can have various ingredients, but the main types of ingredients fall under these categories: pigment, resin, solvent, and additives. The pigment consists of the color and the gloss of the paint, which are often the two most important aesthetic factors for homeowners to consider. The resin binds the paint together and to the wall, and the solvent (e.g., water) is the way that the paint is able to be transferred onto the surface. Finally, additives can be used for certain extra advantages, such as easy brushing, scuff resistance, or other bonuses. These are all important aspects that you'll want to think about when choosing the right paint(s) for your home.
How is paint made?
Although the specifics manufacturing process are more complex than simply mixing the ingredients in a vat, that's the essence of it. However, remember that precise measuring of the separate ingredients and the color combinations guarantees the right mix and an accurate color match. Ensuring that you get the results that you want is exactly why you should trust a company and team experienced in painting and proven in customer satisfaction.
Knowing the origins of paint can help you make better decisions for your unique home. Perhaps now you realize that you need to have a more durable, glossier finish for a high-traffic room, for example. This choice can feel overwhelming on your own, but you can turn to industry experts for guidance and for advice so that you end up with a beautiful home that reflects your lifestyle.
About Platinum Painting of Flower Mound
Since opening in 2008, Platinum Painting has specialized in residential painting throughout North Texas. A free color consultation with a team member is available to all customers and allows homeowners to make the best choices in paints for their homes. Although Platinum Painting can work with any paint brand or store if customers have a specific preference, they typically source their paint from Sherwin Williams. To schedule a free estimate, you can click here.
Comments Off

on How Is Paint Made?
No Comments
No comments yet.
RSS feed for comments on this post.
Sorry, the comment form is closed at this time.