February 17, 2022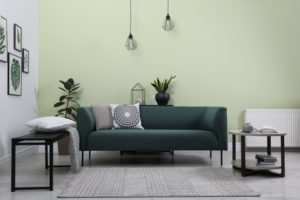 If you're like most people, you probably want to forget about the last couple of years. Hopefully, 2022 can bring you a fresh start, and making your home more comfortable is a great place to begin a change for the better. But what should you do to revive your living spaces? How can you simultaneously make your home unique but also stay on trend? Here are some tidbits of advice about interior painting and other choices from many designers this year!
Bringing Nature Inside
Being cooped up in the house for basically two long years can motivate anyone to spend more time outside. But you can take the calm feeling you get in nature with you into your home. Bringing nature inside includes many design choices.
For instance, you can let in more natural light into a room to help it feel more connected with the outside world. You can also choose a paint color that reminds you of something you find in nature. Nearly all shades of green, which is the quintessential color of nature—are particularly popular right now and for good reason. In addition, you can position plants throughout your house to purify the air and bring life into your spaces.
Multiple-Purpose Rooms
For many families, rooms that once had one purpose have had to become more versatile. Bedrooms have become homework rooms as well as a place to sleep and hang out. Home offices now also include gym equipment. Because of these multiple purposes, you'll need a flexible, versatile design for the room. Choosing paint colors and design patterns that fit all the uses of the room can help it feel less haphazard and more purposeful.
Sustainability and Longevity
Now more than ever, designers are favoring options that are more eco-friendly but still have the capability to last a long time. It seems people are trying to overcome consumerism, and many families have had to downsize. Instead of constantly buying new stuff and throwing the old out, designers notice that more homeowners are finding more sustainable ways to furnish your home with pieces that they like, whether it's in line with the current trend or not. As a result, making classic, lasting design choices prevents excess waste, benefiting the environment as well as your wallet.
While there are plenty of other popular trends going on, these are the most significant ones that have resulted from the pandemic and are likely to stick around for a while. By following these tips, you can make your house somewhere you want to spend time in!
About Platinum Painting of Flower Mound
Platinum Painting has painted more than 10,000 homes throughout North Texas. Since opening in 2008, we have served homeowners in the DFW area with the primary goal of delivering outstanding customer service. From the first phone call to the last inspection, we promise to put you first. If you would like to schedule your free, in-person estimate, reach out to our customer care team online today!
Comments Off

on Interior Paint and Design Trends to Seriously Think About
No Comments
No comments yet.
RSS feed for comments on this post.
Sorry, the comment form is closed at this time.