December 15, 2021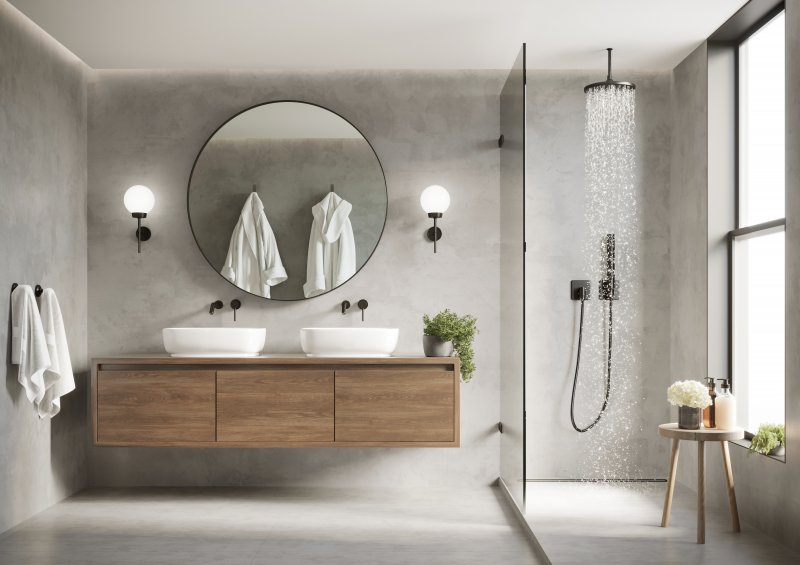 If your bathroom looks like it came straight out of an old 70s movie, you might be looking for ways to freshen it up. Maybe you're unhappy with how outdated and different it looks from the rest of your home. Well, one excellent way to give it new life and style is with a fresh coat of paint. Not only can it turn your bathroom into one you've always dreamed of, but you don't have to spend a fortune doing so. That said, here are timeless paint colors you should consider.
Light Blues
A beautiful, light shade of blue will never go out of style in the bathroom. Not only does it look great, but it helps make the room feel comfortable and sanitary. One example of this color is robin's egg blue, which can be paired with brass fixtures to create a rich (yet airy) look. Additionally, an even paler light blue can be a great backdrop for any houseplants you keep in your bathroom. Make sure you sample several different shades to find the perfect one that'll bring your home together.
Dark Blues
Dark blue is a clean color that has a level of richness you just can't find with the lighter shades. If you have a larger bathroom, consider using a dark blue hue! It'll add sophistication to the space while creating a relaxing atmosphere. You can also use this shade as an accent color on the smallest or most intriguing wall of the restroom for an interesting appeal.
Pale Aquamarines
Aquamarine is a hue you can find in ocean water, making it an ideal color for the bathroom. When the space is flooded with natural light, taking a dip in the tub will feel like you're settling into your own private sea. For a bathroom, it's recommended that you use a pale aquamarine since a bright one may be overbearing. You can also use this hue as an accent color if it's too much on its own.
Greys and Off-Whites
Greys and off-whites look sanitary, making them an ideal backdrop for nearly any bathroom fixture combination. You're guaranteed to find a hue that will look great and timeless in the grayscale! However, make sure you avoid colors that have a touch of yellow in them as they can appear dirty to guests.
Charcoal Browns
Dark, charcoal brown is a classic color that can be another excellent backdrop for houseplants and most bathroom fixtures. The shade adds an elegant yet earthy feel to the room. If your bathroom is on the smaller side, you may want to avoid using this color because it can make the space feel more cramped.
Are you ready to transform your bathroom? Contact a professional painting crew for a free estimate. They'll give you the quality results you deserve and bring your vision to life in no time!
About Platinum Painting of Flower Mound
At Platinum Painting of Flower Mound, we understand that the look and feel of your house is incredibly important to your quality of life. Whether you want to refresh a room to make it more interesting or modern, we've got you covered. Our team can help you achieve your desired results with our interior painting services. For a free estimate, visit our website or call (214) 304-7133.
Comments Off

on 5 Paint Colors That Will Make Your Bathroom Look Timeless
No Comments
No comments yet.
RSS feed for comments on this post.
Sorry, the comment form is closed at this time.