March 26, 2021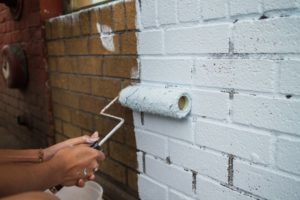 You've never really liked the brick on the outside of your house. It looks rather dingy and shows its age, affecting your home's curb appeal. You decide to you to paint it a clean, modern white to give it a fresh, new look. With such a big change in mind, you want to make sure it's done well. After all, if it looks cheap, future buyers won't be interested in your house. Here are things you need to know about painting brick and other exterior surfaces—the right way.
The Right Prep
Your painting project doesn't start the moment you crack open a paint can. It actually begins with some essential preliminary steps to make sure the paint adheres properly. Some of the preparation can be handled by the paint contractor, but if you are doing it yourself, you're responsible for getting this prep work done.
Every exterior surface you're painting needs to be cleaned; otherwise, the paint will stick to the dirt and grime instead of the brick or other material. To make sure you have a clean canvas to work with, power wash the wall and chip away any loose pieces of old paint. You also need to fill in any cracks with acrylic caulk to prevent these cracks from being even more visible after being painted. After you prime the walls, you're ready to paint.
The Right Tools and Materials
If you think all paint is the same, then you're not setting your project up for success. High-quality exterior paints are specifically formulated to stand up to the elements. In this case, you truly get what you pay for, which means it might be worth spending a little more to get a lot more durability and quality.
Depending on the size of your house, exterior painting usually entails covering a lot of area, so you may want to use a sprayer instead of a roller. It makes for easier coverage and gets into small spaces; however, you need to make sure you spray from multiple angles so that the results are even all over. In between coats, give the paint ample time to dry by waiting at least four to six hours.
The Right Weather
It doesn't have to be bright, sunny, or perfect weather out to paint the exterior of your house. However, rain or other inclement weather can mess with how the paint sets, giving you imperfect results. Try to schedule your painting work on days that have little chance of interference from Mother Nature.
The Right Team
Even if you're a confident, experienced DIYer, painting the exterior of your house is different from painting a bedroom. It may be worth the extra investment to work with professionals who have not only done this kind of work before but are experts in the industry. Find a company that can share your vision and has an eye for perfection.
If you follow these tips for your exterior painting project, you're sure to love what you see when the project is finished. Your brick can be an attractive feature, drawing in more interested buyers down the road.
About Platinum Painting of Flower Mound
Since 2008, Platinum Painting has painted all kinds of exterior surfaces, including brick, vinyl or aluminum, wood, and more. With over 10,000 happy customers, we know how to approach every project and work until you're completely satisfied with our work. Our team does most of the prep work as well as the painting, so you can simply enjoy the final results. If you have questions about exterior painting services, you can contact Platinum Painting through the website.
Comments Off

on The Ultimate "Right Way" for Painting Brick
No Comments
No comments yet.
RSS feed for comments on this post.
Sorry, the comment form is closed at this time.