December 30, 2020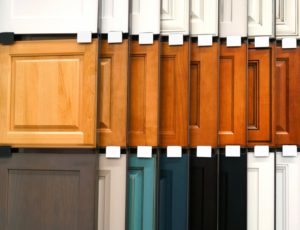 If you are looking into updating your kitchen because your cabinets are splattered with permanent food stains and grease, then you should consider the modern trend of cabinet painting. While staining cabinets is still a classic way to achieve a warm and welcoming feeling in your kitchen, painting them can transform a once outdated space into a more modern and cleaner one. Read on to learn more about cabinet painting versus cabinet staining, and which option is best for you.
The Pros & Cons of Cabinet Painting
If you're interested in a more modern-looking kitchen, painting your cabinets is most likely the best way to achieve that. Paint is a great option for homeowners who aren't huge fans of the grainy appearance of wood. Although this project takes more preparation and time than staining, you'll have more options when it comes to choosing colors and styles. You could paint a neat design on one cabinet or have two-toned kitchen cabinets, injecting more variety and personality into your kitchen.
The cons of this project are that it's often a higher cost than staining, paint is more prone to cracking, and if you're a fan of the natural wood appearance, you'll miss out on that by painting your cabinets.
The Pros & Cons of Cabinet Staining
If you're looking for a more traditional kitchen cabinet look and you love the appearance of grains and knots in the wood, then staining your cabinets is likely the best option for you. If you're looking to take this project on yourself, this is significantly easier than painting your cabinets, and the results can last for decades, successfully hiding blemishes, grease stains, and other imperfections that might occur. The downside to this method of updating your kitchen is that staining doesn't look good on plywood cabinets, and dust is often more visible on stained cabinets than painted ones.
So, Which One is Right for You?
Really, the method of updating kitchen cabinets that's best for you depends on what your style is. If you prefer to have a more clean, modern and updated look, painting your cabinets is the way to go. If you love the welcoming and warm appearance of deep, stained wood, cabinet staining is a great choice. To add more impact, after your cabinets are redone, you can also change out all of the hardware on them to complete the look. Although this sounds like it wouldn't make much of a visual difference, it really does!
About Platinum Painting of Flower Mound
At Platinum Painting of Flower Mound, we offer a wide array of home-improving services, like interior and exterior painting, popcorn ceiling removal, and kitchen cabinet painting. Our work also comes with a satisfaction guarantee to make sure that you achieve your ideal results. We are bonded and insured as well, providing you with peace-of-mind that you won't have to worry about any complications or accidents that may occur along the way. For questions or to schedule a free estimate, visit our website or call 214-304-7133.
Comments Off

on Is it Better to Paint or Stain Your Kitchen Cabinets?
No Comments
No comments yet.
RSS feed for comments on this post.
Sorry, the comment form is closed at this time.