November 30, 2020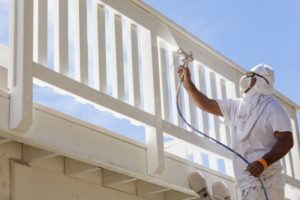 Is it time to give your house a refreshing update with a new coat of exterior or interior paint? On your search for a trustworthy painting contractor that will deliver amazing results, it's important to know what traits to look for. Before making a final decision on who to go with, read on for three questions you should ask your painting contractor to avoid getting scammed.
Do You Subcontract the Work Out to Anybody Else?
Some contractors don't do the work with their own team, and instead will hire less experienced people to do the job for cheaper. This is why it's important to be wary of any bids that come in significantly lower than other painting contractors. Having a team of unskilled college students or people who haven't painted before likely won't yield good results.
Is Your Crew Licensed and Bonded?
When a contractor is licensed and bonded, it means that they have all of the paperwork and insurance necessary that makes them qualified to operate a business. Never feel afraid to ask a contractor to show you proof of this, because if something happens on your property, like an accident, choosing someone without the proper paperwork could make you responsible for any damages or injuries.
Do You Offer a Satisfaction Guarantee?
Not all painting contractors offer satisfaction guarantees, but the ones who do are very proud of the work that they produce. The very fact that they're willing to state that they have a guarantee is a good sign that they won't cut any corners to get the job done.
Do You Have Any References or Reviews I Can Read?
Whether you're visiting a new restaurant or looking to remodel your home, there's no better way to learn whether you want to pay somebody for a service than looking at reviews, portfolios, or contact references. Don't hesitate to look up your potentially new painting contractor on Yelp, the Better Business Bureau's website, Google, or Facebook before signing any paperwork with them. This will give you a truthful, unbiased idea of what you can expect while working with them.
How Do You Start and Finish the Job?
No matter whether you're painting a living room, the outside of your home, or your kitchen cabinets, every job requires extensive prep work to make sure that the results last. If they don't clean or prepare the area right, it may cause the paint to peel or chip just months after you invested so much time and money into getting the job done. It's also a good idea to ask them whether they clean when they're finished, so you're not left with a large, unexpected disaster-zone that you have to hire somebody else to tidy up.
By asking your potential painting contractor these five questions, you'll be able to discern whether they're reliable and trustworthy. Always keep in mind that just because one painter is cheaper, doesn't mean that going with them is the best value.
About Platinum Painting of Flower Mound
At Platinum Painting of Flower Mound, our team of expert residential painters offers a variety of home-improving services, including interior and exterior painting, popcorn ceiling removal, and kitchen cabinet painting. We come fully bonded and insured and are proud to offer a satisfaction guarantee. If you're looking for a way to spruce up your home before the holidays, don't hesitate to call 214-304-7133 or visit our website to schedule a free estimate.
Comments Off

on 5 Questions to Ask Your Painting Contractor Before Signing Anything
No Comments
No comments yet.
RSS feed for comments on this post.
Sorry, the comment form is closed at this time.