September 30, 2020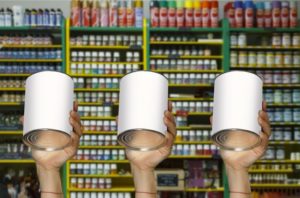 Before you start putting just any old paint on your walls, you should know the difference between interior and exterior paint! This is fundamental knowledge, and without it, you could be risking the outcome of your project. Although it may not seem like they're that different, they are! Read on to learn when to use exterior and when to use interior paint, depending on what type of project you're looking to complete.
Know the Paint Basics
All paints contain the same basic ingredients, which are pigments, solvents, additives, and resin. These allow you to easily coat your walls with a beautiful color of your choice to transform any surface. You can choose a paint with water solvent or an oil-based paint with a mineral spirit solvent. This is what gives it a wet texture and appearance. As the solvent dries and evaporates, you're left with the other ingredients, including the pigment, which gives the paint its color, and the resin, which binds the paint to your wall. Additives give the paint different properties, like mildew resistance and making it easy to clean.
The Difference Between Interior and Exterior Paint
The two primary differences in ingredients in exterior and interior paint are the resin and additives. Interior paints don't have to withstand weathering like being exposed to sunlight, wind, and heat. That's why they don't require a more flexible resin. This feature of exterior paint allows it to survive drastic temperature changes and resist peeling and fading by making it softer and more flexible. On the flip side, interior paints need to be able to be cleaned and withstand scuffing, which is why they have a more rigid resin.
Choosing the Right Paint for Your Project
With so many different properties, it's important to know what type of paint is the best to use for your project. That's why for the best results, it's important to consult with a professional that has ample background knowledge and experience.
Here are some projects that you'll want to use exterior paint on:
Painting the outside brick on a home.
Shutters and frames on your home.
The entry door of your home.
An outdoor deck.
A garage door or shed.
Siding or paneling on the exterior of a home.
Here are a few projects to use interior paint on:
Making over dated furniture and repainting it.
Painting your ceiling.
Adding an accent wall in your room.
Repainting trimming and accents in your home.
For the best results, it's important to get a professional who you can trust and consult with. Even if you're tempted to tackle a project yourself, that's not always the best choice for your wallet or to get the beautiful results you're hoping for.
About Platinum Painting of Flower Mound
At Platinum Painting of Flower Mound, we love helping make homeowners' visions for their house come true. Our team is experienced and knowledgeable, allowing us to always provide beautiful results that homeowners can trust. We're a locally owned and operated business and offer a satisfaction guarantee. We also come completely bonded and insured as well as offer 0% financing for interior and exterior painting! For questions or to schedule a free estimate, visit our website or call 214-304-7133.
Comments Off

on What's the Difference Between Interior and Exterior Paint?
No Comments
No comments yet.
RSS feed for comments on this post.
Sorry, the comment form is closed at this time.