August 27, 2020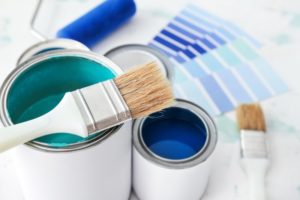 Are you looking into painting your home to make it reflect your personality and personal style? If you're a newbie to painting, it's important to learn the basics before starting the process. This includes familiarizing yourself with the three most common mistakes that rookies make that can completely ruin the results of your hard work. Read on to learn frequent issues homeowners make when trying to paint their own house.
Not Preparing The Surface Properly
Even though you may feel antsy to dive right in and start painting your walls, that will likely lead to unattractive and short-lived results. Many homeowners aren't aware that they need to first prepare their walls beforehand by thoroughly cleaning them, dusting, taping off any areas that you don't want to get paint on, and laying tarps. If you don't properly clean the walls, once you start painting over them, it will highlight dust particles, lint, scuffs, and damage on them. Even if your walls don't look dirty before you start, there's likely dust and dirt on them, so this is a necessary step for all homeowners before they paint.
Rushing Through The Job
Some homeowners don't realize how long painting the inside of their home can take until it's too late, causing them to rush through the rest of the job. This can create all different types of problems, including getting paint on areas where it doesn't belong, like furniture and floors. This can be incredibly hard to get off, and may even cause permanent damage. Rushing through the job can also cause uneven edges and corners.
Instead of making this grave mistake that can cost you time, effort, and money, be sure to thoroughly plan out each step and take your time. You'll likely need to paint multiple coats, so plan to invest more time than you think into the process.
Trying To Save Money By Getting Cheap Paint
Whether you've decided to hire a professional or paint the inside of your home yourself, the materials you purchase are a small portion of the overall cost. That's why it's not worth it to try to save money on these items. When you purchase cheaper paint, you can expect that the quality of the ingredients, like the binding resin and pigments, won't be up-to-par, creating a lackluster transformation. Instead, consult with your professional painter or be sure to buy top-grade materials that you can trust.
Do you feel intimidated about tackling the job after reading about the common mistakes that rookie DIY painters make? Your best bet is to hire a professional. Although it may cost you more in the long-run, you can count on not having to redo the entire project due to a failed finished product.
About the Author
At Platinum Painting of Flower Mound, our team takes great pride in providing high-quality interior painting. We're more than happy to offer tips for painting your walls along the way and help you narrow down color choices if you can't seem to make up your mind. We also come completely bonded and insured, so you won't have to worry about anything going wrong. For questions or to schedule a free estimate, visit our website or call 214-304-7133.
Comments Off

on 3 Common Interior Painting Mistakes To Avoid
No Comments
No comments yet.
RSS feed for comments on this post.
Sorry, the comment form is closed at this time.