April 5, 2020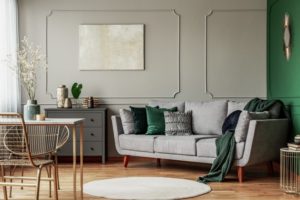 The living room is the center of most homes and is usually the most trafficked room. If you're looking to make a big transformation without repainting your entire house, this would be the room to focus on. Whether you regularly entertain friends here or it's your family's central hangout, a fresh coat of paint is a great way to refresh the heart of your home, and the best place to start is by picking out a color! Read on for some important tips to paint your living room.
Picking Paint for High-Trafficked Areas
Living areas are often the highest trafficked areas in homes, which is why it's important to choose a paint type that holds up and can easily be washed. A good rule of thumb to use is, the less shiny the paint is, the less durable it is and harder it is to wash. There are two sides of the spectrum, flat or matte paint, which is the least durable, and high-gloss, which is great for frequently used living rooms, bathrooms, and hallways. A higher gloss paint will be easier to clean and will be less likely to scuff, allowing you to get the most out of your new paint job.
Neutral Paint Colors for Living Rooms
Many people are surprised to learn that there are a variety of neutral colors besides off-white or beige tones. While tan, beige, and gray are the most well-known options, you can also choose from light blues, cream, pale green, and other earth tones that create calming and comfortable environments. When you choose a neutral paint color, you can trust that it will match practically any type of decoration in the room, they won't be dull, and they're a great hit with homebuyers. Not to mention, choosing a more neutral color allows you some room to add different pops of bright colors via an accent wall, decorative pillows, or art.
Bold Paint Colors for Living Rooms
If you want a more adventurous and funky option, you can look into bold paint colors, such as dark reds, sage, ocean-like blues, deep purples, or even black. While these colors are more difficult to work with, with help from a professional and some inspiration from the web, you can really make your living room shine. When you introduce bolder colors to a room, the key to making them not appear jarring is to balance them with visual relief and contrasting colors. You can do this by using a combination of neutral and bold paint colors or by choosing more neutral-colored furniture.
Painting your living room is a daunting task to take on, especially if you're unsure of where to start. By consulting a professional, you'll be able to ensure that the results you initially envisioned will be able to come to life without any complications.
About Platinum Painting of Flower Mound
At Platinum Painting of Flower Mound, our team of professionals asks questions to gain a clear vision of what type of results you're looking for. We'll help you decide between colors and sheens depending on your needs, and we can even offer accompanying services such as cabinet and exterior painting as well as wallpaper removal. For questions or to schedule a free in-home estimate, visit our website or call 214-304-7133.
Comments Off

on What's The Best Color To Paint a Living Room?
No Comments
No comments yet.
RSS feed for comments on this post.
Sorry, the comment form is closed at this time.