December 29, 2019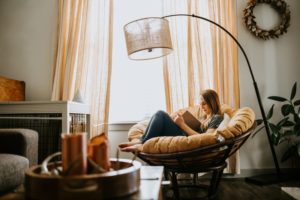 If you've walked into your home and thought "I need to paint the inside of my house," a good place to begin narrowing down your color selection is by finding out what you'd want to see every day. With hundreds of paint options at your fingertips, you can change the feeling of any room in your house by making it feel more welcoming, calm, or energetic. Read on to learn some tips for picking out interior paint and what colors you should start with depending on your personality.
Schemes To Match Your Personality
When you come home, do you want to wind down and relax, host some friends for a cocktail, or replenish your energy after work to get more done? All of these feelings can be achieved through something as simple as your interior paint color selection.
Subtle & Calming
Cooler colors like shades of blue and gray can help achieve a relaxing and soothing feel in your home. These are especially great color choices for spaces that you want to feel quiet and less busy, such as your bedroom or bathroom. A monochromatic approach for these rooms is also a nice way to subtly introduce color-variety without making it feel jarring. By using multiple shades of colors such as blues, lavenders, soft yellows, and grays, and experimenting with texture, you can create an exciting space without making it feel boring.
Neutral Elegance
Many people think of the word "neutral" and associate it with a light brown color. However, neutral shades don't just include white or beige. You can achieve an elegant and beautiful feel in a dining room or entertainment room with varying shades of almond, taupe, and red and brown tones. Depending on whether you want your entertainment area to appear intimate or open, you may choose lighter colors for a more spacious feeling or darker shades of for a more personal and earthy elegance.
Vibrant & Exciting
If you'd like a room that really shines and inspires, you may consider choosing different shades of orange, gold, red, and dark purples side-by-side. The visual contrast of complementing color-blocking will allow you to create an aesthetically pleasing and exciting environment.
Choosing Between Oil and Latex Paint
During your search for the perfect interior paint, you may notice that it comes in a variety of sheens in either latex or oil. Latex is a popular choice among homeowners because it's easy to clean and won't fade as easily. It's a great choice for interior walls because it is also more resistant to blistering. However, that doesn't mean you shouldn't consider oil-based paints. Depending on your needs, these oil paints are great at bringing real wood moldings back to life and highlighting their beauty.
Once you have a basic idea of the feeling that you'd like to achieve in a room, you can start by testing out some samples and consulting with professional painters in Flower Mound. With the perfect color scheme, you'll be able to breathe new life into a room that you once thought was drab and boring.
About Platinum Painting of Flower Mound
Since 2008, Platinum Painting of Flower Mound has transformed thousands of houses by helping homeowners choose the perfect color combinations. Our experts are well-versed in both exterior and interior painting and can provide budget-friendly home makeovers to restore the new feeling of your house. To request a free estimate, visit our website or call 214-304-7133.
Comments Off

on Interior Paint Color Schemes That Match Your Personality
No Comments
No comments yet.
RSS feed for comments on this post.
Sorry, the comment form is closed at this time.