November 18, 2019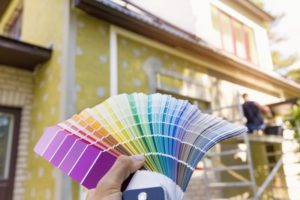 As the holidays approach, you become excited for the arrival of out-of-town guests you'll be hosting. You make sure their rooms are prepared, and you get everything ready so that your family and friends can feel comfortable and at home during their visit. But as you put up lights on the outside of your house, you realize that the exterior could use a fresh coat of paint to protect your house from the weather and look more updated. Before you hire a painting team to start work, you have an important decision to make: the paint color. In this blog post, you'll learn tips for picking exterior paint color that can make your choice much easier.
Check with Your HOA
Do you have a homeowner's association for your neighborhood? Some HOAs have a limited number of paint colors that you are allowed to put on the outside of your home. You wouldn't want to have to start all over again just because you've chosen a color that doesn't comply. Make sure you take the time to check the fine print in your agreement, so that you can pick from the approved paint colors.
Consider Your Permanent Materials
If your home has brick or stone work, then you have a helpful starting point for determining the right color. You can use these permanent features to find paint colors that complement the tones in the material and create a cohesive look for your home's exteriors.
Remember the Trim
Your home shouldn't be just one solid color. That's boring! Painting the trim a different shade can add interest and highlight the beautiful features of your home. In many cases, you can simply choose a lighter shade in the same color or a complementary shade of white.
Choose a High-Quality Brand
Your home's exteriors have to endure a lot—the sun beating down in the summer heat, hail storms, torrential rain showers, and occasional winter freezes. You want to make sure that it can withstand the elements and protect your home's outside surfaces, which is why you need to choose a good brand that is specially formulated for exteriors.
Pick the Right Painting Company
Deciding on the paint colors for your exteriors can be overwhelming, but when you choose the right painting company, you don't have to do it alone. You can turn to a team that wants your satisfaction from start to finish, including your choice of color. They can provide valuable insight into painting trends, complementary colors, and more.
If you follow these tips, picking your exterior paint color won't be nearly as difficult. When the project is complete, you and everyone who comes to your home for the holidays can feel completely comfortable before they even set foot in the door.
About Platinum Painting of Flower Mound
Since 2008, Platinum Painting has helped homeowners throughout North Texas make their design dreams come true. If the customer doesn't have a preferred brand of paint for the outside of their home, the Platinum Painting team uses Sherwin Williams' SuperPaint Exterior Acrylic because of its quality and affordability. Plus, a free, in-person color consultation is included with each project. To schedule your free estimate, just click here.
Comments Off

on 5 Tips for Picking Exterior Paint Color
No Comments
No comments yet.
RSS feed for comments on this post.
Sorry, the comment form is closed at this time.