October 21, 2019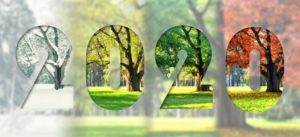 When was the last time you updated the color of the walls in your home? Is it starting show its age? Compared to other renovations and updates, a fresh coat of paint is an affordable way to breathe new life into your living spaces. Choosing the right colors can help your home stand out in the best possible way and create an environment that enhances your family's wellness in general. In 2020, we expect to see three main paint color trends that can truly transform your house into a home.
Bold and Warm
In fashionable restaurants and hotels, you'll likely see more oranges, yellows, warm pink, and taupe shades being used. These bold, warm tones are vibrant and help you feel welcome. In the home, these bright earth tones would be perfect for lively spaces that you use to entertain guests or especially for a home office. These natural shades integrate the beauty of the great outdoors inside and make for a more balanced, peaceful feeling in the home.
Calm and Restorative
Blue and green hues are well known for their calming effect and are always popular choices for bedrooms in particular. However, in 2020, you're likely to see more earthy shades, ones that resemble the cool sky or natural grasses. As a natural fit for basically any home, these peaceful colors help you achieve a truly relaxed state and escape from the stress of the world. Regardless of how long you plan on staying in your home, these classic, nature-inspired shades will always resonate with people and create a peaceful atmosphere.
Modern and Natural
If you'd like a sophisticated, modern look for your home, you can still take advantage of a clean palette of natural colors. Grays, white, and charcoal pair very well with soft, subtle pastels, giving a space a lighter-than-air feeling. This combination is particularly attractive in the common areas of your home, where everyone, including future buyers, can appreciate the comforts of your home.
Deciding on Colors for Your Home
As you consider your options for paint colors for a specific, think about how you would like to feel there. One of these 2020 painting trends is bound to fit the tone you want to achieve. If you've having trouble deciding which to use for you home's interiors, you can get samples of the various colors and see how the lighting affects the appearance of your choices.
All of these painting trends point toward the same source of inspiration: nature in both its warm and cool hues. Simultaneously soothing and breathtaking, these colors allowing you to make every room in your home a pleasant place to be. If you would like to learn more about potentially popular paint color trends this upcoming year, or to get started on enhancing your home, contact our residential experts at Platinum Painting of Arlington.
About Platinum Painting
Karl and Marjorie Pickens opened Platinum Painting's doors in 2008. Since then, they've served families all over North Texas—more than 10,000 to be more precise. Their skilled team doesn't leave homeowners to make the intimidating color decision alone. Rather, they stay updated with the latest trends and offer a free color consultation to help clients choose their colors with confidence. If you would like to schedule a free estimate, you can call (817) 784-7841 or click here.
Comments Off

on Looking to Paint Your Home? Check Out These 3 Paint Color Trends in 2020
No Comments
No comments yet.
RSS feed for comments on this post.
Sorry, the comment form is closed at this time.